"I have not failed. I have just found 10,000 ways that won't work."
–Thomas Edison
Have you ever wondered idly to yourself, "Hmm, I wonder what would happen if I tried to make bread with only sourdough starter, ground sprouted wheat berries, salt, and a little sweetener (brown rice syrup, say)?"
Or have you ever thought, "I'm in the mood for a doorstop, I wonder what would be the best way to bake one?"
If so, you're in luck; here's my short answer to both questions: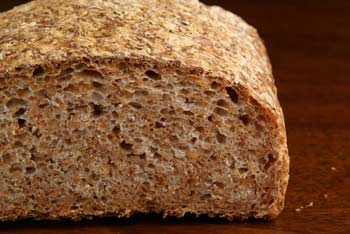 The taste wasn't bad, and it was almost edible in small doses. I'll try this again, but to tell the truth I'm a little sick of sprouted wheat for now. And are you sick of hearing about it from me? I thought so.
Filed in what not to do • Trackback URI

Print with or without images
Comments Feed
Jeremy on June 19 2008 at 04:48 pm:

I actually was told by my friend John Downes, that he made a sprouted legume bread.The idea intrigued me when I asked him if he had ever made somthing like that before. So I have had this notion twisting around in my mind to make it myself! What about it Susan, could be used as a frisbee or something, it's a challenge.

Laura on June 19 2008 at 06:41 pm:

LOL! I still haven't been able to make myself "accept" this month's BBD challenge. Sprouting things just is not appealing to me–although I know I should try….

Ulrike on June 20 2008 at 12:16 am:

I didn't sprout wheat for BBD I prefer mung beans, its's easier and IMHO the bread tastes better .

Great result, though.

Boaz on June 20 2008 at 12:48 am:

Susan,

I hope that next time you make sprouted wheat bread it turns out better than this one. Speaking from experience, it really is disheartening when you prepare in advance to make this wonderful bread and then you end up with a flop that goes straight to the bin. But, this is all part of us becoming better bakers, right?

Natashya on June 20 2008 at 05:31 am:

When all bread fails, make croutons! Or breadcrumbs….
Our victories wouldn't be so sweet if not for lull in excellence, and your breads on your side bar are excellent.
Amazing baker that you are, I am happy to have met you.

Jane on June 21 2008 at 05:55 am:

I made the same doorstop but with one essential different. I followed a Reinhart recipe and there was flour in it! I still haven't found the courage to attack the whole grains again. But your fruit bread sure gives me motivation. I love the taste of wheat graines.

Susan on June 21 2008 at 11:25 am:

Jeremy, I've been thinking about sprouted lentils myself. Always up for a challenge, even if it does turn out frisbee or hockey puck. Send me yours for YeastSpotting!

Laura, yes, you must try. You might like it! The bread here is certainly not a poster child for sprouts but I was quite happy with my first one, with the dried fruit and nuts (and flour!).

Ulrike, I haven't sprouted mung beans for a long time. I used to like them in sandwiches and salads; in bread would be interesting!

Boaz, I really don't mind the flops too much — all part of the grand experiment! And even if it goes straight to the compost, there's the consolation of knowing it will nurture my vegetables.

Natashya, thank you, happy to meet you too! Hmm, bread crumbs… a bread crumb pudding, would that be too weird?

Jane, glad to know someone as talented as you makes doorstops too! Do try the fruit bread, it's much better than this one.

Matthew on June 21 2008 at 12:04 pm:

I had surprisingly similar thoughts a few years back, but with rye flour. The dough smelled and tasted right, the knead felt right, the rise looked a little low, but acceptable.

We just moved and found the rye-brick I'd made in the storage unit. Almost moved it across country, but decided it's be cheaper to make a new one in the new town.

There's always the chance it'll be bread next time I try…

Abbey on June 21 2008 at 07:22 pm:

When I have something that doesn't work, I remind myself that I have learned way more from my failures than my successes. I'm sure you culled quite a bit of info about how a bread does and doesn't work with sprouted wheat from these two loaves you've made.

Aparna on June 23 2008 at 04:17 am:

Had never known sprouts could be used in bread till this month'd BBD announcement. Research on the net kept talking about a hard, flat bread with sprouted wheat, which was why I experimented with other sprouts.
But mine turned good, like your earlier one.

MyKitchenInHalfCups on June 24 2008 at 12:57 am:

Love that Edison quote! Always have.
I always tell myself: If you haven't baked a brick, you aren't a real bread baker and you're not trying.
Post a comment