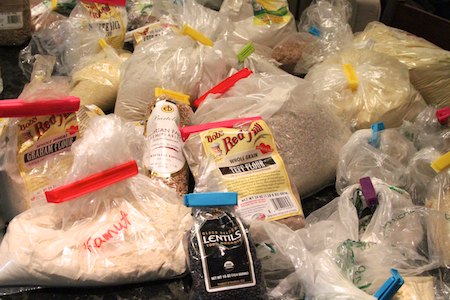 I love these things.
Not the flours, grains, and seeds (seen here dragged from their beds so I could assess which ones are fit to make the 6-mile move to my new home next week), although I do love them too. But I'm talking about the colorful bars that clip the bags closed.
If you don't already know about these little hinged pieces of plastic, your life is about to be changed forever. Okay, maybe they're not life-changing in the same way as, say, a credit card and Velcro are, but still. Not having to grapple with knots, twist-ties, rubber bands, tape, or springs is huge. I can clip these one-piece guys on and snap them off again with one hand tied behind my back, and when they're on they stay put.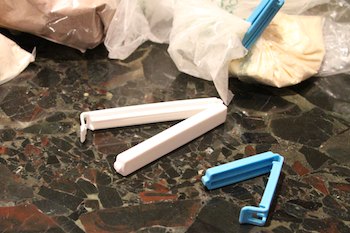 Look for these clips at Ikea, where they're about $3 for a set of 30 clips. If you're not near one, you can also order them online for a slightly less attractive price.
Option 3 is to leave a comment here for a chance to win the spare (new) bag of 30 clips I found when I was packing up the kitchen drawers. Random drawing to be held on Sunday, October 10 at 9 am PDT.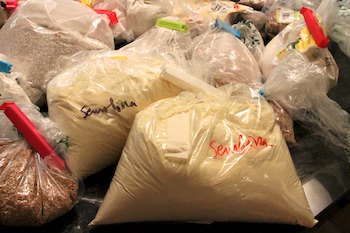 (Note to self: We're good on semolina.)