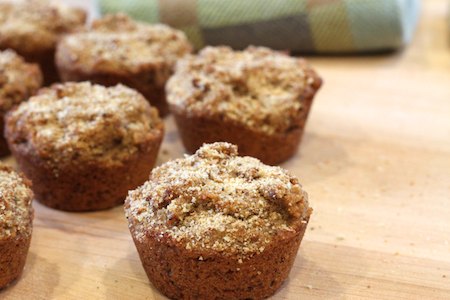 If you like your muffins light and sweet and soft — in other words, miniature cakes — these will not be the muffins for you. (These are not Barbie muffins.)
If you think a muffin should give you something to sink your teeth into, with more substance than sugar, these might be the muffins for you. (These are real-woman muffins.)
I still consider these a work in progress, but as a proof of concept — the concept being that a lusty muffin can be made with dry sourdough bread crumbs as the sole "flour" — they're not bad.
Make the bread crumbs by drying slices of stale Norwich Sourdough (crusts left on) in a 300F oven until they are bone dry. How long this takes depends on how stale the bread is to begin with. Then grind it in a food processor until it is the consistency of sand. One cup of crumbs is about 150 grams.
Banana Bread Crumb Muffins (Alpha)
Yield: 12 muffins
Time:
Mix: 10 minutes
Bake: 23 minutes
Ingredients:
275 g fine dry sourdough bread crumbs, plus 40 g crumbs for topping
2 g (3/4 t.) cinnamon
1 g (1/2 t.) nutmeg
1 g (1/2 t.) ginger
10 g (2 1/8 t.) baking powder
97 g olive oil
92 g brown sugar, passed through a strainer to remove lumps
57 g egg (one large)
290 g mashed very ripe banana
90 g plain nonfat yogurt
2 g (1/2 t.) vanilla extract
83 g chopped pecans, toasted
Method:
Preheat the oven to 335F on the convection setting or 360F on the regular bake setting.
Grease a 12-cup muffin tin.
In a medium bowl, combine the 275 g bread crumbs, cinnamon, nutmeg, ginger, and baking powder.
In another medium bowl, combine the banana, yogurt, and vanilla.
In the bowl of a stand mixer with paddle, mix the oil and brown sugar until until smooth. Add egg and beat on medium-high speed until the mixture thickens and lightens in color.
Add the dry ingredients alternately with the bana mixture, beginning and ending with the dry ingredients. Mix after each addition.
Stir in the pecans.
Spoon the batter into the prepared muffin tin.
Sprinkle the top of each muffin with approximately one tablespoon of dry crumbs.
Bake for 20 – 25 minutes, until the tops are golden brown.
Cool on a wire rack.