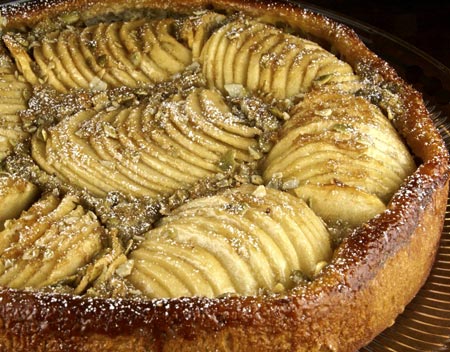 Bon Appétit has invited food bloggers (including me, wow!) to participate in their Blog Envy Bake-Off, which features a lineup of holiday treats, mostly gorgeous and mostly from people who know how to bake dessert. Now, we know I don't do a lot in the way of desserts, but an invitation from Bon Appétit cannot be taken lightly. There are, however, certain requirements to consider.
Bon Appétit's requirement:
Must be a holiday dessert.
My requirements:
Must have yeast (either that or change my name to Wild Chemical Leavening).
Must have fruit (hello, is it dessert without fruit?).
Must be a dough I love (so when I screw up the first pass on the tart — did I mention I don't do desserts? — I don't mind mixing the dough again).
Must be rustic (the culinary equivalent of "it's not a bug, it's a feature").
This tart, made with a soft spiced pumpkin brioche crust, pumpkin seed (pepita) cream, and sweet-tart fall apples, fits the requirements, but is it worthy? I'll leave that up to you. If you think so, I'd love it if you would vote for it here.
Note that the pumpkin brioche dough and pepita cream recipes make more than what you need for the tart. I used the extra of both to make cinnamon rolls — coming soon!