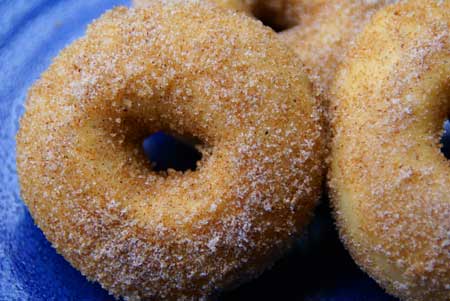 I made these doughnuts (my first ever; don't know what I was waiting for) for Tartelette and Peabody's Time to Make the Doughnuts event. They allowed baked doughnuts, although they warned against making a habit of it. Still reeling from holiday fat overload, I couldn't bring myself to deep fry anything right now. Next time.
These were inspired by Heidi's Baked Dougnuts at 101 Cookbooks, and my recipe loosely based on hers.
I experimented with different sugar/spice mixtures for the coating, in which the doughnuts are dipped after baking. My favorites were 50/50 brown sugar and granulated sugar with cinnamon (pictured above), and granulated sugar with cardamom. Another interesting one was granulated sugar with chipotle powder. The possibilities are limitless.