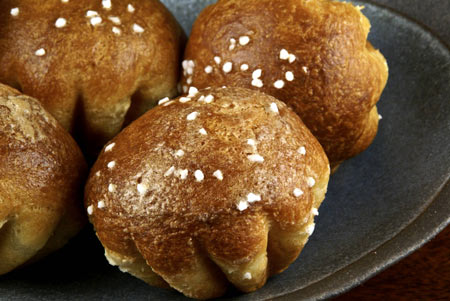 Well, so much for originality.
Google "coffee brioche" and what do you get? A lot of stuff about having coffee with brioche, right? But not really anything on coffee in brioche. So that was my brilliant idea: if coffee and brioche are so good together, why not make a true marriage of the two and put the coffee right in the bread?
So I did, and it was good, but then I thought to Google "brioche au café," and lo and behold my idea wasn't so original after all. A lot of recettes come up there. Damn.
Also, would you please just pretend not to notice that these rolls and pull-apart brioche look pretty much exactly like the butternut squash brioche I made last year? And don't look too closely, or you'll see that the recipe is the same as this brioche, except with coffee concentrate and milk powder standing in for the liquid milk, and crème fraîche and sugar instead of egg wash.
Oh hell, I can't even come up with anything original to say, so I am resorting to the words of Bill Watterson (author of the comic strip Calvin and Hobbes):
"I used to make original snowmen, but it was time consuming, hard work. So I said, heck, this is crazy! Now I crank out crude imitations of what's already popular! It takes no time or thought, and most people don't care about the difference, anyway! And what good is originality if you can't crank it out?"
So fine, I cranked out some coffee brioche.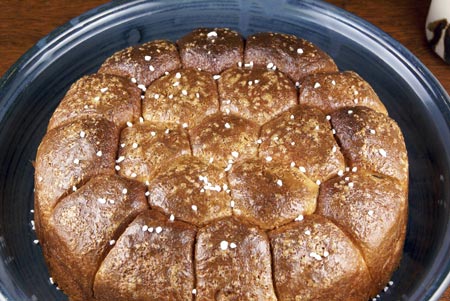 About the coffee concentrate: I always have it on hand, because I cold-brew my coffee. (If you're not familiar with the cold-brew method, I highly recommend it.) Otherwise, brew some quadruple-strength coffee. The coffee flavor in the brioche is present but subtle. For a stronger flavor and darker crumb color, I would try adding some espresso powder, and I'll do so the next time I crank this out.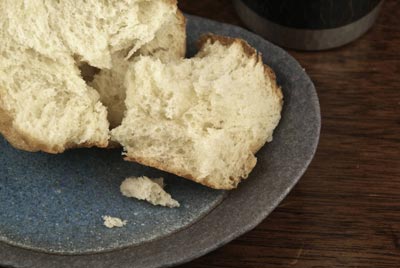 Coffee Brioche
Yield: 1200 g (one 9-inch round loaf plus 6 rolls, or one 8-inch round loaves plus 10 rolls)
Time:
Mix dough: about 15 minutes
First fermentation: 1 hour
Divide and preshape: 10 minutes
First fermentation (continued, in refrigerator): 8 – 12 hours
Shape: 10 minutes
Proof: 1 hour 45 minutes
Bake: 20 – 40 minutes
Desired dough temperature: 78F
Dough Ingredients:
474 g flour
284 g eggs
43 g coffee concentrate
5 g milk powder
6 g (2 t.) SAF gold instant yeast
9.5 g (1.5 t.) salt
95 g sugar
284g butter, cut into half-inch cubes, softened
Topping Ingredients:
crème fraîche
granulated sugar or coarse brown sugar
pearl sugar
Method:
Place flour, eggs, coffee, milk powder, yeast, and salt in the bowl of a stand mixer. Mix at low speed for about 4 minutes. It is normal for the dough to be quite stiff at this point.
With the mixer in medium speed, add the sugar very slowly, in 5 or 6 increments. Mix for about a minute following each addition. (If you add the sugar too quickly, mixing will take longer.)
Continue to mix in medium speed until the gluten reaches full development, i.e., you can stretch a paper thin, translucent "windowpane" from the dough.
Turn the mixer back to low speed and add the butter all at once. Mix for a minute in low speed, then turn the mixer to medium speed and mix until the butter is completely incorporated. It may seem like it will never mix in, but it will. You should now have a dough that is very soft and satiny, quite extensible (stretchy) but also strong and elastic (springs back after being stretched).

Transfer the dough to a covered container and ferment at warm room temperature (about 76F) for one hour.
Divide the and shape the dough into light balls of 50 grams each.
Space the preshaped dough on a baking sheet and slip the sheet into a plastic bag or cover with plastic wrap.
Refrigerate overnight (8 – 12 hours).
Degas each piece of dough and form it into a tight ball by placing it on the counter with your cupped hand loosely around it, and moving your hand in a tight circle several times.
For a large round pull-apart loaf, lightly oil an 8- or 9-inch cake pan and line its bottom with parchment paper. Place 12 or 13 dough balls into an 8-inch pan, or 17 or 18 in a 9-inch pan. The remaining balls can be baked as individual rolls, either on a parchment-lined baking sheet or in small, oiled brioche or tart tins.
Cover the loaf and rolls, and proof for about an hour and 45 minutes at warm room temperature.
Meanwhile, preheat the oven to 380F.
Before baking, brush the dough with crème fraîche. Sprinkle with granulated sugar or coarse brown sugar, and with pearl sugar if desired.

Bake at 380F until the brioche has reached an internal temperature (use an instant-read thermometer) of at least 190F. This will take about 15 – 20 minutes for individual rolls and 30 – 40 minutes for the pull-apart loaf.
Cool loaves in their pans for 5 minutes, then remove to a wire rack to cool completely.