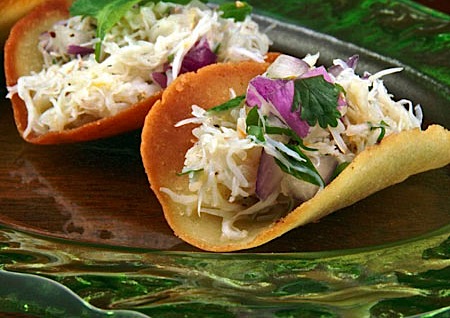 First off, here's the requisite fine print, so I don't get kicked off the Daring Bakers' books, especially after failing to do last month's challenge:
"This month's challenge is brought to us by Karen of Bake My Day and Zorra of 1x umruehren bitte aka Kochtopf. They have chosen Tuiles from The Chocolate Book by Angélique Schmeink and Nougatine and Chocolate Tuiles from Michel Roux." The challenge also ordered us to pair the tuiles with "something light," leaving the whole thing well open to creativity and interpretation.
Now I realize there may be a few questions at this point:
Karen and Zorra are bread bakers extraordinaire. Why didn't they pick a bread recipe?

Karen and Zorra are complex women of many talents. We should all be so gifted.

What's that stuff on top?
You put crab salsa on top of a cookie. What have you been smoking?

Actually, we had a secret savory option as well: cornets from Thomas Keller's French Laundry Cookbook.
Those don't look like cornets.

That's not a question. But if you must know, cornet molds are not something I have occasion to keep around.

That doesn't look like crab salsa, it looks like––
Did you cheat and buy Pringles instead?

No, but thank you for asking. I think.

The recipe only has six ingredients. How hard can it be?

What a coincidence, those were my words exactly! My famous. Last. Words.

How's that?

Have you ever tried using your bare fingers to pick up piping-hot, butter-drenched wafers so you can drape them over a rolling pin?

Will you do these again?

Definitely, for a special occasion. Like my 100th wedding anniversary. (How clever of Mother Nature to have wired our pain memory to fade. Otherwise no one would ever have second child, and no one would make tuiles more than once.)

What a wimp.
Seriously, I want to thank Karen and Zorra for helping us understand that Daring is not always about fourteen different recipe components. And kudos to all the other Daring Bakers who are much less wimpy than me.
P.S. The crab salsa consisted of crab meat, lime juice, red onion, jalapeño, cilantro, tangerine zest, and fresh ground pepper, in proportions that seemed right to my taste buds.