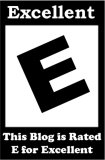 I am pleased and honored to say that Wild Yeast has been rated "E for Excellent!" And adding to my delight at my first award is the fact that it is bestowed by one of my favorite bloggers, Kelly of Sass & Veracity. If you don't know Kelly's blog, go there at once. You will find a fearless and accomplished cook who turns out not only one spectacular dish after another, but writes about it with laugh-out-loud wit and humor. Thanks, Kelly!
The other piece of good news is that (I think) I am now authorized to pass this award on to five others whose blogs inspire/awe/entertain/delight me. Of course the bad news is that (I think) I have to restrict my choices to five, because there are so many that I could name. But here are my heartfelt five for today; I thank all of you for your bright presence in blogdom:
Tanna of My Kitchen In Half Cups, for being a woman after my own yeasted heart whose warmth and wisdom shine through on every post.
Manuela of Baking History, for not only giving us some unique recipes but also inspiring us to learn more about the past in which they were originally brought to life or light.
Katy of sugarlaws, for dishes that are as drool-worthy as any out there, presented in such a straightforward way that she makes me believe even I could pull them off.
Jen of use real butter, for being a master both in the kitchen and behind the camera.
Zorra of 1x umrühren bitte aka Kochtopf, for BreadBakingDay and other events that welcome all and help make the world a smaller, friendlier place.