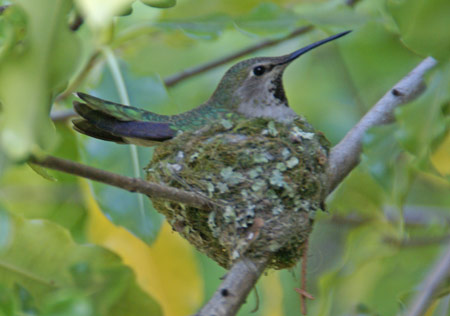 I could argue that this is nominally on-topic, because I often see this little beauty flitting about outside my kitchen window as I am baking. Last year her nest was directly in front of said window; this year it took me a while to discover its location, once she started making daily appearances in late January.
Happily, the tiny nest turns out to be still well within easy viewing (and photographing) range if I step outside. But I didn't discover it until the eggs were already hatched, so I'm not sure exactly how old the two hatchlings are. By the look of them, only a few days at most. Their black, shriveled heads are about the size of small blueberries, each with a bright orange beak hardly wider than the tine of a fork.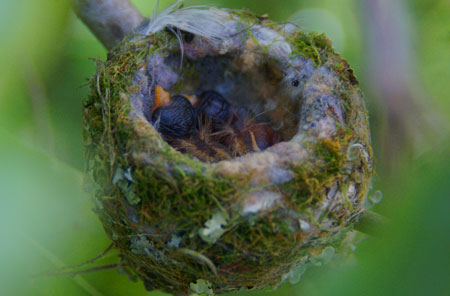 This is Ms. Hummingbird's third season with us. I believe she is an Anna's hummingbird. If there are any hummingbird experts out there who can confirm or refute this, please pipe up. The red at her throat is visible only when she is in flight, and she makes a chit-chit sound, more loudly than I'd have believed possible from such a small creature. The exterior diameter of the nest is less than two inches.
The top photo is a bit blurry because the nest is almost always moving. It's nearly at the end of a very flimsy branch, so even the slightest breeze sets it to bobbing, and in more substantial winds, it's astonishing that the birds are able to stay fast in the nest as it whips wildly about. My theory is that this location, turbulence notwithstanding, is safest because it foils rodents and cats and others who might have designs on mama or hatchlings.
What amazing creatures do you see outside your kitchen?