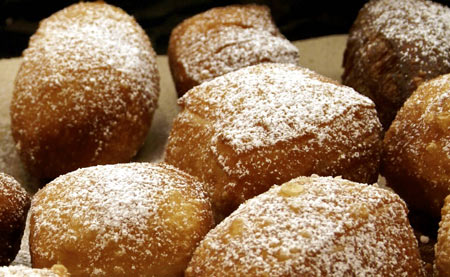 Yesterday I seriously thought I had died and gone to hell.
I had a lovely weekend in Seattle, but the minute IFBC was over it was quite downhill from there. The 18 or so hours before I would arrive back in California involved an excruciatingly painful event (think childbirth) that left me sleep-deprived and limping, an airport clock that was exactly one hour behind (come on people, Spring Forward!), and close encounters with staining liquids (both the hot and cold kind).
Normally this is not, to put it mildly, the sort of day that makes me want to be bold and adventurous. It is the sort of day that makes me want to seek shelter under a nice ample rock. Certainly not the kind of day that typically makes me say to myself, "This seems like the perfect time do the thing you've never done before because it terrifies you more than just about anything else in the world! Why not just go ahead and Deep Fry Something?"
Certainly that idea wasn't borne of optimism that I would succeed. It wasn't borne of a need to eat rich food, which I had been doing all weekend. It wasn't borne of an itch to nudge myself out of my comfort zone; I was quite uncomfortable enough, thank you very much. And it was stupid, because you really don't want to trust yourself with large amounts of hot oil when you're tired and cranky.
The only possible explanation is that… Well, I suppose I don't exactly have one. Maybe it was my subconscious telling me that I might as well get this dreadfully horrific experience out of the way while I was on a roll, while things were already so bad that one more bad thing might just pass unnoticed, or less-noticed than it otherwise might.
So I made beignets, and they were good. I mean, they were actually really good.
I'm not writing about how I made them, because I still need to figure out more of the art and craft of this fried dough stuff. That and, frankly, I'm not entirely sure how I made them. There was some yeast dough. There was a skillet containing half a gallon of weapon-grade oil. Beyond that, things are a little fuzzy.
Then why I am I writing about them at all? I don't know; I didn't say I wasn't still tired. There's probably a take-home for me in here somewhere, beyond the obvious one that my fear of frying is history (look for more fried stuff from me, and feel free to call me on it if you don't see some soon). After a nap I might be able to think about it more clearly.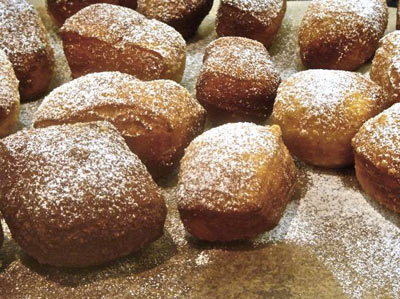 For some fantastic fried dough masterpieces, I suggest:
Beignets NOLA (Le Pétrin)
Beignets au Levain (au levain!)
Sweet Potato Bombolini (Simplicious)
Chocolate Cake Doughnut Holes and Filled Doughnuts (use real butter)
Beignets and Doughnuts (Passionate About Baking)