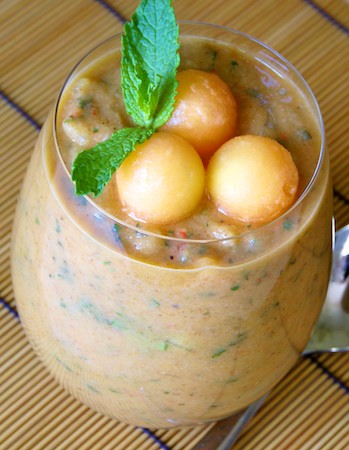 Packrat (n): a collector of miscellaneous useless objects.
Now I'm not saying I fit this definition. Decide for yourself. Let's say you came to my house and poked around in my cupboards and drawers. Let's say you found, among many other things, four empty shoeboxes, a deck of 49 cards, the cannon from a Monopoly game that was shot to hell long ago, and seven returnable ceramic yogurt jars. Let's say you made a judgment. I'm not saying you'd be wrong. There is evidence.
However, if you looked on my counter, and thought to include, in your body of evidence, the end or two of stale bread that is likely to be hanging about… well, I'd have to object. Stale bread ends are not miscellaneous useless objects — they are bread crumbs waiting to happen. And bread crumbs are plenty of deliciousness waiting to happen; as evidence, I offer fig upside-down bread pudding, ajo blanco, steamed ginger-persimmon pudding.
And, of course, gazpacho. You read that right, chilled soup fans, gazpacho has bread crumbs in it. At least it does when it's prepared the traditional Andalucian way. True, this gazpacho based on cantaloupe and honeydew — and no tomatoes — can't exactly claim to be traditionally Andalucian, but it can claim to be a savory, refreshing summer soup that gets loads of body, not to mention flavor, from a hefty dose of dried out sourdough bread reduced to kibble in your trusty food processor.
(Side note: I have a KitchenAid food processor that gets the job done but makes rather a mess doing it. If anyone feels like gifting me a new Cuisinart processor, I'd be happy to let you know where to send it. Thank you.)
I generally don't bother removing the crusts, but be aware that crusts make everything a darker color. This might not be appealing to you. It does appeal to the Yankee frugality in me.
If you have more stale bread than you can use at the moment, bread crumbs freeze very well. I process them to medium-coarse size (somewhere between a lentil and a pea, if you like sizing things in terms of legumes), put them in a 350F oven for a few minutes, if necessary, until they're bone dry, and then into a ziploc freezer bag.
Melon Gazpacho
(adapted from Emeril Lagasse /The Food Network)
Yield: 4 servings
Time:
Chop and mix: 15 minutes
Chill: several hours
Ingredients:
1 c. roughly-chopped, plus 3/4 c. finely-diced, cantaloupe
1 c. roughly-chopped, plus 3/4 c. finely-diced, honeydew melon
3/4 c. roughly-chopped, plus 3/4 c. finely-diced, Vidalia or other sweet onion
1/2 c. roughly-chopped, plus 1/4 c. finely-diced, red bell pepper
1 c. roughly-chopped, plus 3/4 c. finely-diced, cucumber (skin on; seeds removed)
2 cloves garlic
3 T. fresh lemon juice
3 T. fresh lime juice
2 slices jalapeño pepper, or to taste
1 c. (100 g) medium-coarse dry sourdough bread crumbs
1.4 c. olive oil
1 t. finely-chopped fresh mint
1 t. finely-chopped fresh cilantro
1 t. finely-chopped fresh chives
1 t. finely-chopped fresh parsley
2 t. Kosher salt
1 t. finely-ground black pepper
small melon balls for garnish
Method:
In a food processor or blender, process the roughly-chopped vegetables, garlic, lemon and lime juices, jalapaeño, bread crumbs, and olive oil until smooth. (You may need to do this in more than one batch.)
In a bowl, combine the puree with the finely-chopped melon, vegetables, herbs. Season with salt and pepper to taste.
Chill for several hours, until very cold.
Serve garnished with melon balls.