In her Christmas stocking this year, my daughter found a post-it note pad that says "If it weren't for the last minute, I'd never get anything done." She feigned offense, but she grudgingly admits it's true. The rest of that truth is that she inherited the procrastination gene from her parents.
With my three previous Daring Bakers challenges, I've fought it off successfully. I'm on shaky ground with most non-yeast baking, so the threat of public humiliation has been enough to stir me to action plenty early in the month. I had time to re-make the Bostini Cream Pie when the chiffon cake didn't cooperate. Made the Potato Bread three times. And although I had some decent beginner's luck with the Yule Log, I made darn sure my schedule could accommodate a take-two before the deadline, if needed.
Well, my true nature was bound to catch up with me sooner or later. I waited until the last possible (for me) day to bake the lemon meringue pie that is the January challenge, hosted by Canadian Baker Jen. And it was a day we had company for dinner, proving that, in addition to the procrastination gene, the stupid gene was also at work here. (In my defense, it was an old friend, a good sport not likely to be easily fazed by scary pie. Also, I did have some nice pistachio gelato on standby, just in case.)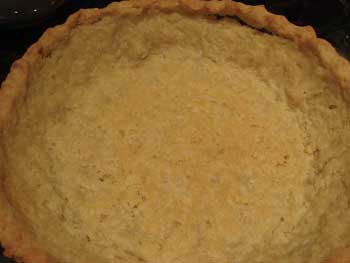 As usually happens when I tempt fate, I ran into trouble early and often. I swear I followed the recipe exactly. But I ask you, does this look like a) a pie crust or b) a pathetic little thing that melted butter all over my oven floor during baking, filling the oven with smoke and leaving me with a pie dish lined with the pastry equivalent of sedimentary rock? But no time for analysis or regrets, I was down to the wire here; I forged boldly ahead and hoped the filling and meringue would divert attention away from this unfortunate mess.
About that filling. Did you know that "constantly" (as in, "whisking constantly") means "without interruption"? And did you know there's a reason for that, when cooking a mixture of water, sugar, and cornstarch? I learned this. Last-minute or not, I was not about to forge boldly ahead with large chunks of Magic Rub eraser suspended in watery syrup. Luckily, doing this part over only cost me about 10 minutes.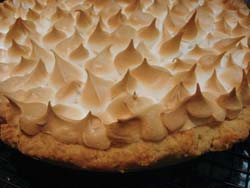 Now for the meringue. It whipped up nicely. Going for that ever-popular hedgehog look, I piped it on top of the pie, being careful, as the recipe indicated, to make sure the meringue was well-connected to the crust so it wouldn't pull away. Baked for 15 minutes. So far so good. Looks beautiful, no?
An hour or two later, I glanced at my cooled pie. Let's just say I've had "Islands in the Stream" stuck in my head ever since (and now you do too, bwahahaa!).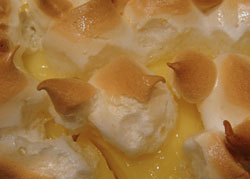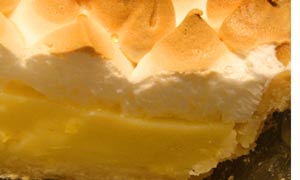 It was edible. The filling was good, smooth as silk in the end, with that assertive-yet-delicate flavor only Meyer lemons can lend. The meringue was passable, if you didn't spend too much time looking at it from above. The crust, well… no teeth were broken, but it's a good thing our friend is, as I said, a good sport.