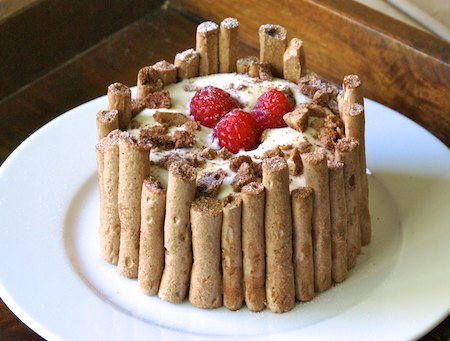 The June 2010 Daring Bakers' challenge was hosted by Dawn of Doable and Delicious. Dawn challenged the Daring Bakers to make Chocolate Pavlovas and Chocolate Mascarpone Mousse. The challenge recipe is based on a recipe from the book Chocolate Epiphany by Francois Payard.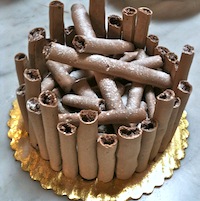 When I was in school, we made a Concorde cake: layers of chocolate meringue and chocolate mousse, encased by and topped with chocolate meringue "logs." My classmates and I agreed it was delicious, but we were hard-pressed to understand how the 8-inch cake could be gracefully cut into individual servings. The idea of single-serving-sized desserts came up.
This month's Daring Bakers challenge — individual chocolate Pavlovas (meringue shells) topped with chocolate mascarpone mousse and drizzled with mascarpone cream — seemed like a good candiate for a Concorde-style interpretation.
All of the challenge components — meringue, mousse, cream — are here, with just a couple of tweaks to the original recipes. In the mousse, I replaced the Grand Marnier with 4 tablespoons of Chambord. And to give the mascarpone cream more body, so it could be used as a top layer rather than a drizzling sauce, I cut back the crème anglaise in the recipe to one cup, and whipped the finished cream to soft peaks.
To start, I piped the meringue into 3.5-inch discs (two per individual dessert) and lots of long "sticks" (about eight 12-inch sticks per dessert; your mileage may vary).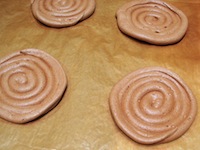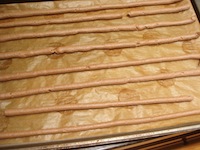 To make "mousse rings," I stacked and taped together two 3.5-inch English muffin rings. Lining with plastic wrap makes unmolding easy. I trimmed the meringue discs down a little to leave a slight gap between the disc and the ring, to fill in with mousse.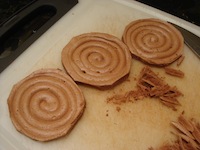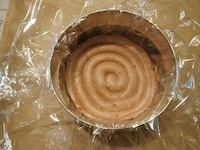 I layered meringue-mousse-meringue-mousse in each ring, and chilled them for an hour or so to firm up the mousse. I cut the sticks into different-length pieces and pressed them into the side …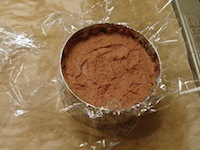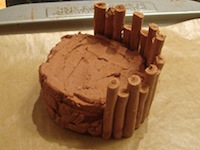 … then topped the whole thing with a layer of mascarpone cream.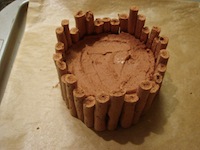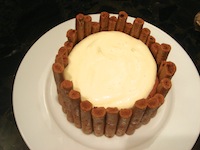 The garnish is a few raspberries and crushed meringue pieces.
If you need to hold these in the refrigerator, I suggest holding off on the cream layer until just before serving. I didn't do this, and the meringue absorbed the moisture in the cream and turned soft quickly. Since the integrity of those meringue sticks is critical for containing the cream, well, … I'll leave it to your imagination what could happen (and did, although I, uh, forgot to take a photo). Even so, I'm placing this one in the success column because the taste was wonderful and I do think it will be fine next time if I actually do as I say, and not as I did.
As always the other Daring Bakers have created some amazing meetings of meringue and mousse. Check them out!