I know I've said this before (and before and before and before), but I need to weigh in on this again:
If you're not weighing your ingredients, you should be!
If you don't know why, go scoot and read my small rant on weighing. (Summary: It's accurate. It's fast. It's neat. Everyone who's anyone is doing it.) Then come back, because I have something you might want.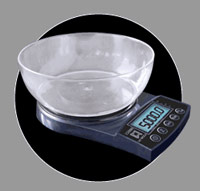 For two years my trusty scale has been a My Weigh i5000. I love it because:
it is spot-on accurate
it can weigh in either grams (to 1-gram precision) or pounds and ounces (to 0.5-ounce precision)
it has a capacity of 5 kg
it is slim and lightweight and fits easily in a kitchen drawer (although I leave mine out because I use it daily)
I love my scale so much I thought I'd ask the people at My Weigh if they would give me one that I could give to one of you, and they were nice enough to say yes.
Actually, they were doubly nice, because they sent me not only an i5000, but one of their new scales, a KD-8000. I haven't used this one (if you win it, you have to promise to fill me in on how well you like it), but it looks great. It's bigger than the i5000, with an 8-kg capacity, and has what looks like a very cool baker's percentage function.
I will choose a winner for each scale by random drawing. To be eligible, just leave a comment saying:
which scale you would like to win. If you would be happy with either, you can say that too.
whether you are currently weighing your ingredients, or are ready to make the switch from volume to weights.
Get your comment in by 11:59 PST on Friday, June 5. And apologies to my international friends, this one's for US shipping addresses only.