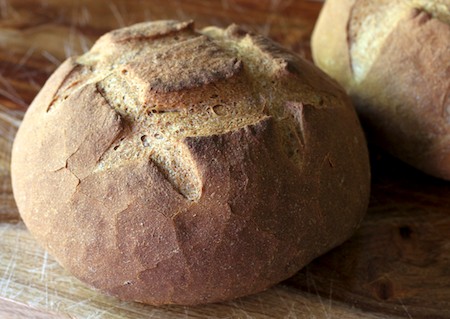 A (or perhaps the?) defining characteristic of Tuscan bread is its lack of salt. I have made saltless Tuscan bread before, and I was pleasantly surprised by its sweet flavor.
This "dark Tuscan bread", a 70%-whole-wheat version adapted from Carol Field's The Italian Baker, did not warm my heart quite as well, but I did like the soft crumb and crisp crust. I might experiment with different wheat flours to see how the flavor varies with each. And in fairness, I have to say I have so far only eaten it pretty much straight up, and Tuscan bread is meant to go with the hearty flavors of Tuscan food. Panzanella (tomato and bread salad) is traditional with this bread… stay tuned.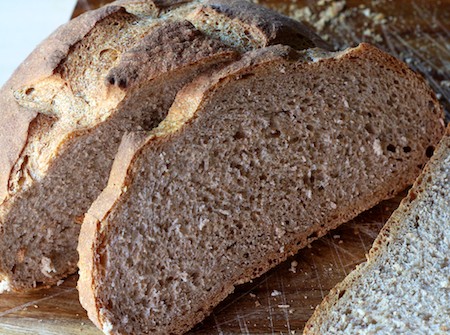 This goes to Zorra (1x umrühren bitte) and Family and Food for BreadBakingDay #32, Italian Breads. Buon appetito!
Pane Toscano Scuro
Yield: 1150 g (2 loaves)
Time:
Ferment sponge: about 8 hours
Mix final dough: about 10 minutes
First fermentation : 1 hour
Preshape, rest, and shape: 30 minutes
Proof: 1 hour
Bake: about 40 minutes
Desired dough temperature: 76F
Sponge Ingredients:
Final Dough Ingredients:
Method:
In a bowl, combine the sponge ingredients. Cover and let rest for about 8 hours.
Combine all of the final dough ingredients, holding back a small portion of the water, in the bowl of a stand mixer fitted with a dough hook. Mix on low speed until the ingredients are incorporated. Adjust the water as needed to achieve a medium dough consistency.
Continue mixing on low or medium speed to a medium level of gluten development. The amount of time this takes will depend on your mixer.
Transfer the dough to a lightly oiled container. Cover and ferment for 1 to 1.5 hours, until the dough approximately doubles in size.
Turn the dough into a lightly floured counter. Divide into two pieces. Preshape it into balls and let rest, covered, for 20 minutes.
Shape the dough into tight balls and place them, seam-side-down, on a floured board.
Proof, covered, for about an hour, until the indentation left by a fingertip springs back very slowly.
Meanwhile, preheat the oven, with baking stone, to 475F. You will also need steam during the initial phase of baking, so prepare for this now.
Just before baking, slash the loaves in a tic-tac-toe pattern.
Once the loaves are in the oven, reduce the temperature to 450F. Bake for 8 minutes with steam, and another 22 minutes or so without steam. Then turn off the oven and leave the loaves in for another 10 minutes, with the door ajar.
Cool on a wire rack.