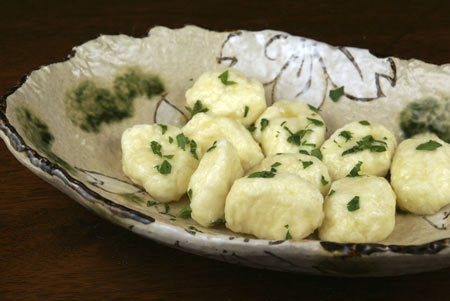 I am pretty much a one-trick pony in the kitchen. If it has yeast, I'm good. Which is not to say I don't have my share of failures and faux pas with bread, but I'm not afraid of it.
About a year and a half ago I joined the Daring Bakers, which once a month takes me out of my yeast-bound comfort zone and into the world of cakes, pies, and other foreign objects. Sometimes the results have been quite lovely, sometimes not so much, but I always learn something, and I have to say I have felt pretty damned proud of myself for being so damned Daring twelve times a year.
But at least with Daring Bakers, it's, well, still baking. Now I have a whole new reason to hyperventilate:
Daring Cooks.
If it's true that I don't bake cakes, it's doubly true that I don't cook. Therefore, there is only one way to explain my willing membership in this new cadre of Daring, knife-wielding people: I am insane. Either that or I can't stand the thought of not being part of this action, as fear-inspiring, embarrassing, and painful as it is bound to be.
I really hope our fearless leaders Lis and Ivonne don't decide to start the Daring Sword Swallowers any time soon.
Now about the first Daring Cooks challenge: Ricotta Gnocchi from The Zuni Cafe Cookbook.
My first thought: Maybe this won't be so bad. I have made gnocchi before and it's been actually good.
Second thought: But this one has no flour in it, and no potato; it's just you and the cheese.
Third thought: Uh oh.
And uh oh turned out to be exactly the appropriate thought. The advice in the recipe was to use a pound of fresh ricotta and drain it overnight. Well, I did that, but I should have known right away it was still too wet, because it was much gloppier than the ricotta in this video of Judy Rogers demonstrating how to make the gnocchi. But I Daringly (read: Stupidly) forged ahead, adding the rest of the ingredients, and ultimately wound up with an incoherent batch of goop that I somehow formed into incoherent blobs of goop that, upon boiling, turned into hot incoherent blobs of goop.
Now it's one thing to be embarrassed, it's quite another to be completely and utterly defeated on my debut as a Daring Cook. I was going to have to have a second go at this, or just hang it up and resign before I even started.
So, armed with more wet ricotta, I made it my mission in life to drive every last extraneous drop of water out of that stuff. I lined my strainer with paper towels as I had before, but instead of just lazily plopping it over a bowl in the refrigerator overnight, I replaced those wet towels with fresh ones every couple of hours. Then I took the mass of somewhat drier cheese and rolled it up in paper towels several times until it seemed, well, dry. Finally, I weighed out 8 ounces of this dry cheese for half a batch of gnocchi (as opposed to my first batch, where the cheese was weighed before draining).
And I'll be damned if all that draining and drying didn't do the trick. I didn't really get the hang of the shaping, which looks so easy in the video, and my gnocchi therefore had something of an albino morel mushroom appearance to them. But with nothing more than a little butter and parsley, and eyes closed, those wrinkled pillows made a pretty good dinner.
So I got lucky on Round One. At least it was dough, sort of. Of course you will also want to see how lucky skilled all the other newly-matriculated Daring Cooks are too.
Now please please please don't let next month's challenge involve meat. And no, I'm not vegetarian.