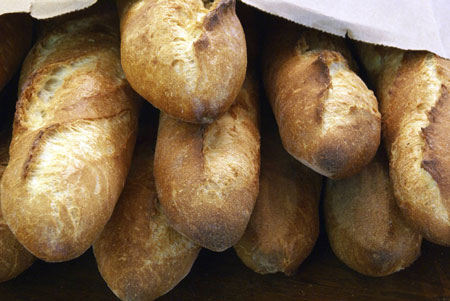 By my count, I've made around 100 baguettes in class over the past two weeks. Tomorrow I have practical exam in which I have to mix two doughs and make roughly 15 baguettes from each one. The next day is more practical exam, and that means more baguettes. I am tired at the end of each day, and if I'm being honest, I'm a little tired of baguettes too.
So what did this tired on tired translate into last night? When I got home, did I take a hot bath? Watch a little TV? Catch up on my reading? How about on my sleep? Well, no. I made a few more baguettes. I can't explain this entirely. It had something to do with wanting to know if I could make a baguette in my own kitchen that looks as good as the ones we've been turning out in class.
The answer is no, I couldn't. Or at least I didn't (see below photo). However, because I am presumptuous by nature, I will presume to tell you what I know, or I think I know, about scoring the damn things.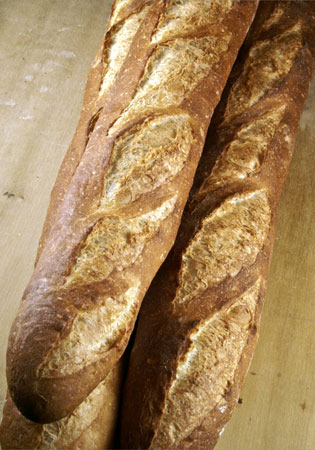 I use a lame (pronounced like llama without the final "a"). It is a double edged razor blade attached to a metal handle so that the blade is curved. This allows you to use just one corner of the blade without having its back end get in your way. I have seen people do an awesome scoring job with a knife, however.

Hold the blade at an angle to the dough (left), not perpendicular to it (right).

Cut as straight along the long axis of the loaf as possible. The cuts need to overlap, so they cannot be entirely straight up and down without running them off the side of the baguette, but mentally divide the baguette into lengthwise thirds, and keep the cuts within the middle third. Overlap the cuts by about one third of their length.

Cut quickly. You can point the cutting edge either toward or away from yourself, but either way, all of your motion should be in the direction the cut is to run. Don't pull the blade in towards yourself or push it away. Think about getting a paper cut on your finger. The paper barely grazes your skin.
Good opening of the cuts is determined not only by your scoring technique but also by proper steam and oven heat, the strength of the dough, and how well the baguette has been shaped. I have had some requests to do a baguette-shaping video. I'm sorry, but I'm just not that good at it yet, and I'm not that presumptuous.