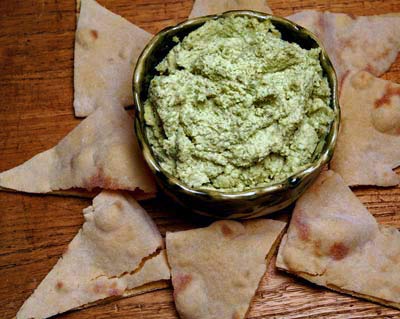 Remember when you were twelve and you broke your arm skateboarding? You had a cool cast that everyone signed, and you got to have your mom write out your homework, and within a month you were back out there on the skateboard, good as new. No big deal.
Osteoporosis isn't like that. It's a huge deal. It doesn't take a major trauma to break osteoporotic bones, and fractures related to this devastating disease are a leading cause of hospitalization, disability, and even death. Did you know that an adult over age 50 who fractures a hip has a one in four chance of dying within one year?
While those most likely to suffer the effects of osteoporosis are women over age 50, the time to think about preventing it is now, no matter what your age and gender. Bone mass is largely acquired before the age of 20, but good health habits at any age will help. Don't smoke. Do regular weight-bearing exercise. Get enough Vitamin D. And three words at the top of the list: Calcium, Calcium, Calcium! Many people just don't get enough of this critical bone-forming mineral.
In recognition of National Osteoporosis Prevention Month and to promote awareness of the disease, Susan of Food Blogga is hosting Beautiful Bones. The task is to make a dish with one or more calcium-rich ingredients. I chose to give hummus and pita bread, a favorite around here, a calcium boost by making a few adaptations to my everyday recipes.
The calcium in the "hummus" comes from edamame (green soybeans, which have about twice the calcium of garbanzo beans), yogurt, and sesame seeds. Tahini, the traditional sesame ingredient in hummus, is made from hulled sesame seeds (at least the tahini in my pantry is), and while it does contain a fair amount of calcium, unhulled seeds contain about twice as much. Although the hulls also contain oxalic acid, which inhibits calcium absorption, I think there is a net calcium advantage to the unhulled seeds. Also, there is some evidence that heat reduces the effect of the oxalic acid, so I toasted the sesame seeds.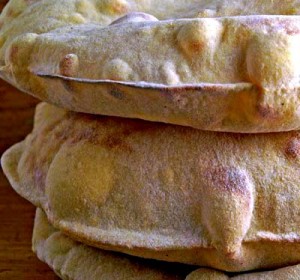 I modified this recipe for whole wheat pitas, keeping the whole wheat sponge but substituting soy flour for the whole wheat flour in the final dough. Soy flour contains about six times as much calcium as whole wheat flour. It contains no gluten, so in general it's not a good choice for bread, but for a flatbread that's not as critical.
The substitution was admittedly a shot in the dark, since I have never worked with soy flour before. The dough was quite sticky and I did incorporate some additional whole wheat flour during the kneading. I must say I found myself turned off by the smell of the dough. The words "raw" and "green" kept leaping to mind, and while I usually would not say these adjectives are bad things at all, in this case they were. Happily, the baked pitas tasted great. Their yellowish color was a tipoff that these were not your average wheat pitas, but otherwise you'd never have known.
Edamame "Hummus"
Yield: About 2.5 cups
Time: 15 minutes
Ingredients:
450 g boiled shelled edamame (if boiling in their shells, you'll need about 900 g of beans to yield 450 g of shelled beans, and about 15 minutes to shell them)
130 g plain nonfat yogurt
100 g sesame seeds (unhulled)
28 g (2 T.) olive oil
3 cloves garlic
1/2 t. salt
1/2 t. cumin
About 1 T. water
Method:
In a skillet over medium-high heat, toast the sesame seeds until they begin to pop. Remove them to a plate and cool briefly.
Place toasted sesame seeds in a mini food processor and process until finely ground.
Place the ground seeds and all other ingredients except water into a blender or food processor. Process until pureed. Add water to thin to your desired consistency.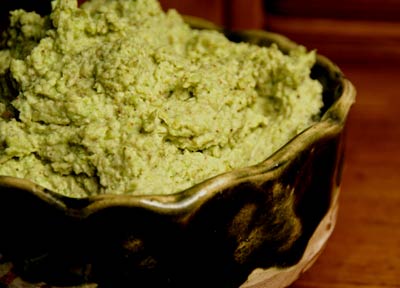 Soy-Whole Wheat Pitas
Yield: 8 pitas
Time:
Mix and ferment sponge: 1 hour
Mix final dough: 10 minutes
Ferment: 1.5 hours
Divide, rest, and roll out: 15 minutes
Bake: 2 – 3 minutes per batch of 1 – 3 pitas
Sponge ingredients:
225 g whole wheat flour (I used white whole wheat but regular is fine also)
2.5 g (3/4 t.) instant yeast
280 g lukewarm water
Final dough ingredients:
All of the sponge
9 g salt (1.5 t. table salt)
14 g (1 T.) olive oil
185 g soy flour
Additional whole wheat flour, as needed
Method:
Combine sponge ingredients in a medium bowl. Cover and let rest for one hour.
Stir salt and olive oil into sponge.
Add the soy flour and mix briefly to form a shaggy mass.
Turn the dough and any loose soy flour out onto the counter. Knead to incorporate all of the flour. If the dough will not come together into anything resembling a ball, add a little more whole wheat flour. The dough will still be quite sticky.
Continue kneading for 8 – 10 minutes until the dough is smooth.
Place the dough back in the bowl. Cover and ferment 1.5 hours or until almost doubled in volume.
Meanwhile, preheat the oven, with stone, to 450F.
Turn the dough out onto the counter. Divide it into 8 equal portions and shape each into a ball. Cover with a cloth and let rest for 10 minutes.
On a floured counter, roll each ball into a disc about 7 inches in diameter. They will be very thin; you can roll them thicker if you prefer. Roll the first two or three, and then more as the first batch is baking.
Using a peel lightly sprinkled with semolina, transfer two or three pitas to the baking stone. (If you don't have a peel, place the pitas on parchment paper and slide the parchment paper onto the stone.) Bake for 3 – 4 minutes, until fully puffed with a few browned spots. Don't overbake or the pitas will be dry. (If a few don't puff, they'll still be delicious.)
Repeat with the remaining pitas. As they come out of the oven, wrap them in a towel to keep them warm.