This post originally appeared on Wild Yeast on November 19, 2007. This year, Thanksgiving dinner will be at my sister's house, and my niece will bake the cranberry bread. The sentiment, however, remains the same. Happy Thanksgiving!
Thanksgiving With (As Always) Cranberry Bread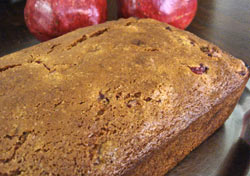 This is the bread I will be serving at Thanksgiving dinner this year. It is the same bread I made last year, and just about every year since I learned how to turn on the oven. It is the same bread you will see here next year if this blog is still around. It's cranberry-nut bread, the recipe clipped from the back of a long-ago Ocean Spray bag.
The rest of the menu will be similarly well-worn: roast turkey with the same chestnut stuffing we've had since my husband and I shared our first Thanksgiving, cranberry sauce, mashed potatoes with gravy, sweet potatoes, squash, creamed onions, apple pie, pumpkin pie.
I may vary the sweet potato treatment a bit from year to year. I add a brussels sprout or two if I the urge strikes me. I like to try new pumpkin pie recipes from time to time. But by and large, the menu is eminently simple and predictable.
This is not because I'm not an adventurous cook (although I'm the first to admit I'm not). It is because Thanksgiving dinner is not about the Cuisine, it's about the Food. It's about the familiar, abundant dishes you know will always be on your plate, year after year, dishes that come together to create what my husband calls "the perfect mouthful." These are things that would be sorely missed if they weren't on the table. This is food that tastes good without having to fuss with it. It's food you know you can count on.
Now that I think about it, Thanksgiving dinner is a feast that's a lot like the family I'll be sharing it (whether physically or in spirit) with.
So no recipes today. The bread recipe is still on the back of the cranberry bag if you need it, but I suspect you don't. Just make what you made last year.
Have a beautiful Thanksgiving, everyone!