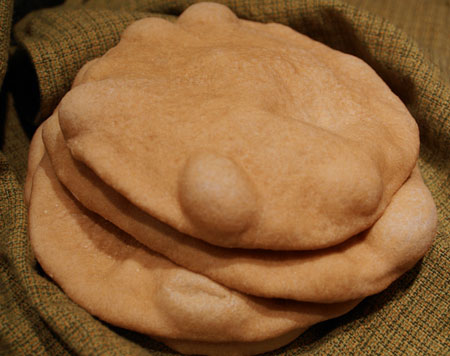 If you're anything like me, you may still be feeling the effects of those holiday indulgences that just kept adding up and up. I don't make New Year's resolutions, but it's definitely time for a few changes for the healthier around here.
These 100% whole wheat pitas are not only 100% good for you, they also taste 100% better than the cardboard discs that somehow wind up in bags labeled "pita bread" on store shelves.
I adapted this easy recipe from Flatbreads & Flavors by Jeffrey Alford and Naomi Duguid, who say that in lieu of baking, the pitas can be cooked on a stovetop griddle or skillet. I've not tried that, but oven baking is very easy, provided you have a baking stone. If you don't have one, either go get one or let me know how the griddle works for you.
I've found that rolling the pitas very thin keeps the top and bottom layers the same thickness. If you prefer a thicker pita, fine, but I've found that when they puff, the bottom layer ends up thicker than the top. I don't really care about that, but you might, and I don't know a way around it.
And just what is it that makes pitas puff up? It's some serious bread magic.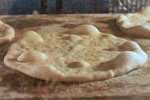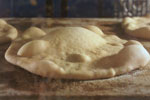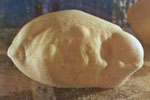 Whole Wheat Pitas
Yield: 8 pitas
Time:
Mix and ferment sponge: 1 hour
Mix final dough: 10 minutes
Ferment: 1.5 hours
Divide, rest, and roll out: 15 minutes
Bake: 2 – 3 minutes per batch of 1 – 3 pitas
Sponge ingredients:
225 g whole wheat flour (I used white whole wheat but regular is fine also)
2.5 g (3/4 t.) instant yeast
280 g lukewarm water
Final dough ingredients:
All of the sponge
9 g salt (1.5 t. table salt)
14 g olive oil (1.5 t.)
185 g whole wheat flour
More water at room temperature, as needed
Method:
Combine sponge ingredients in a medium bowl. Cover and let rest for one hour.
Stir salt and olive oil into sponge.
Add the 185 g flour and mix briefly to form a shaggy mass. It's OK if not all of the flour is incorporated at this point.
Turn the dough and any loose flour out onto the counter. Knead to incorporate all of the flour. At this point the dough should be soft and tacky (not sticky). If it's not tacky, add a bit more water. If it's sticky, knead for a bit, then add a touch more flour if it's still sticky.
Continue kneading for 8 – 10 minutes until the dough is smooth and elastic.
Place the dough back in its bowl. Cover and ferment 1.5 hours or until approximately doubled in volume.
Meanwhile, preheat the oven, with stone, to 450F).
Turn the dough out onto an unfloured counter and knead it a few times to degas it.
Divide the dough into 8 equal portions and shape each into a ball. Cover with a cloth and let rest for 10 minutes.
On a lightly floured counter, roll each ball into a disc about 7″ in diameter. They will be very thin. You can roll the first two or three, and then more as the first batch is baking.
Using a peel lightly sprinkled with semolina, transfer two or three pitas to the baking stone. (If you don't have a peel, place the pitas on parchment paper and slide the parchment paper onto the stone.) Bake for 2 –3 minutes, until fully puffed. Don't overbake or the pitas will be dry. (If a few don't puff, they'll still be delicious.)
Repeat with the remaining pitas. As they come out of the oven, wrap them in a towel to keep them warm.
These are best eaten as soon as possible after baking. I like a pocket sandwich with lightly (not deep) fried falafel and assorted vegetables. I feel better already.