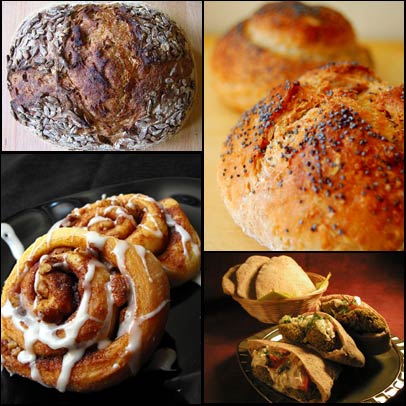 In case you've been napping for the past few days and somehow missed the news, Nicole of Pinch My Salt is leading a bread-baking charge: she and over 100 (!) other fearless bakers will be baking their way through Peter Reinhart's The Bread Baker's Apprentice, loaf by delicious, challenging, gorgeous loaf. If you'd like to be part of this journey, I think there's still time to get on board! To follow their progress, check out their Flickr group.
Also, make sure you visit the BreadBakingDay #19 roundup at Cindystar for all of your Spring Bread needs.
And, as always, although I don't say it enough, thank you so much to all of you who share your amazing stuff here.
YeastSpotting is a weekly showcase of yeasted baked good and dishes with bread as a main ingredient. For more bread inspiration, and information on how to participate, visit the YeastSpotting archive
.
Loaves and Rolls

Ramblings of a Wanna-Be Baker

1x umruehren bitte aka kochtopf

Living in the Kitchen with Puppies

Stir the Pots, with Wild Yeast

Flatbreads, Filled Breads, and Savory Pastries

Living in the Kitchen with Puppies

Sweet Breads and Pastries
Breakfast