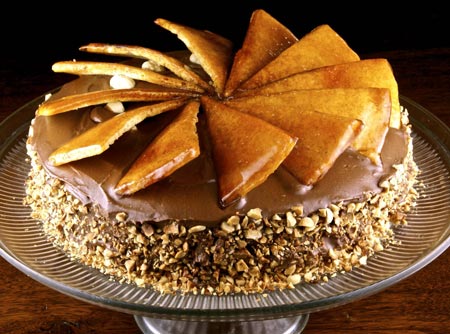 The August 2009 Daring Bakers' challenge was hosted by Angela of A Spoonful of Sugar and Lorraine of Not Quite Nigella. They chose the spectacular Dobos Torte based on a recipe from Rick Rodgers' cookbook Kaffeehaus:  Exquisite Desserts from the Classic Cafés of Vienna, Budapest, and Prague.
If you had a bakery and needed something sensational for the window, this Dobos Torte would be it. It just looks amazing.
Because it it so beautiful, I wish I could say my cake was an unqualified success. But those toffee pieces on top, the ones that arrange into such a fabulous pinwheel, were responsible for more fits than I have had over cake in quite some time. (And that's saying something; it's pretty much a given around here that where there is cake, there are fits.)
For starters, I did not care for the flavor of lemon juice in the caramel. It just tasted sour to me. And then there was the question of how to eat them. Too hard to cut and to chew without fear of dental disaster. And I won't even mention how long it took me to cut these babies apart. Once again, it appears that caramel and I are simply not destined to be friends.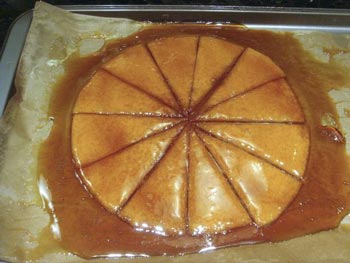 The excess caramel did fashion itself into a trend-setting piece of abstract art for the coffee table, though.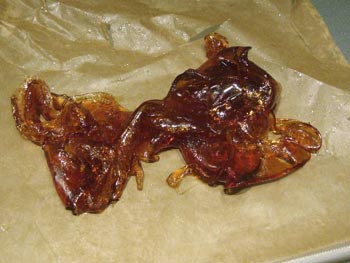 The technique of baking thin sponge cake layers individually on parchment paper was new to me and one I was glad to learn, although I'm really much too lazy to be doing this sort of thing more than once a decade or so. I found that an easy way to trim each layer was to lay it on top of an inverted 8-inch cake pan and use scissors to cut away the edge.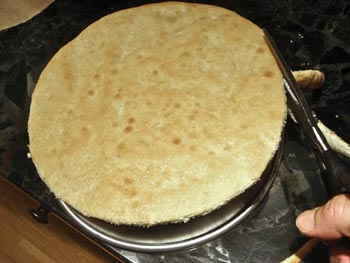 The buttercream frosting was delicious, but a bit runny. Maybe this was due to the coffee concentrate I added, my one attempt at putting my own spin on the recipe (these things are usually daring enough for me as is). Or maybe I undercooked the eggs? If so, no one's suffered from it, that I've heard of anyway. Not the kind of thing you'd want to leave standing out at a summer potluck picnic, in any event.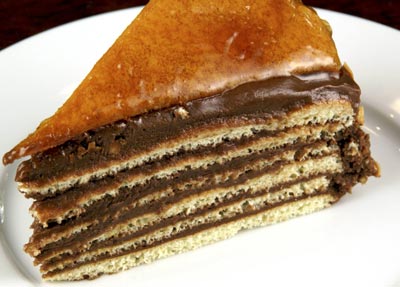 As always, this challenge was fun and educational, and (mostly) delicious, and for that I thank Angela and Lorraine. Also as always, more fun, education, and deliciousness abounds today as all of the DBs' Dobos (Doboses? Doboi? Dobosen?) hit the webwaves.