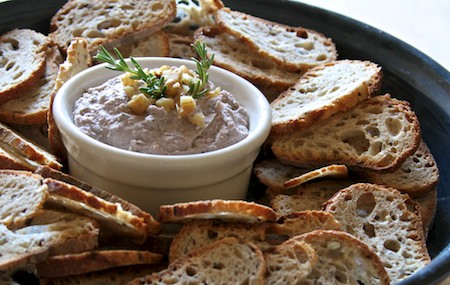 The July 2010 Daring Cooks' Challenge was hosted by Margie of More Please and Natashya of Living in the Kitchen with Puppies. They chose to challenge Daring Cooks to make their own nut butter from scratch, and use the nut butter in a recipe. Their sources include Better with Nut Butter by Cooking Light Magazine, Asian Noodles by Nina Simonds, and Food Network online.
What I loved about this month's Daring Cooks challenge — aside from being the second challenge in a row where I made something that's perfectly paired with good bread or crostini — is that the concept is simple (nothing is much simpler than tossing a bunch of nuts into the food processor and turning it on), but the possibilities are limitless. (Actually, now that I think about it, that seems a good axiom: the simpler the concept, the greater the possibilities. I must remember to keep this in mind.)
I made Walnut and White Bean Dip (based on walnut butter) straight from the challenge recipe, as well as a pumpkin seed butter (yes, I do know that pumpkin seeds are not nuts, but the idea is the same), which was an … interesting color, but went very nicely on whole wheat bread with a smear of fig spread to top it off.