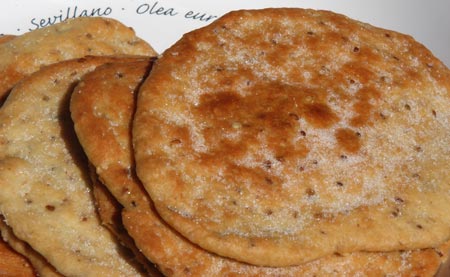 Oh my goodness. When my daughter went to Sevilla, Spain two summers ago, she brought back some tortas de aceite, the crisp, lightly sweet olive oil wafers traditionally made there, and I was in love.
Imagine my delight when, paging through Penelope Casas' excellent La Cocina de Mama: The Great Home Cooking of Spain, I found a recipe for tortas de aceite that calls for leftover bread or pizza dough. I had that leftover dough! And in short order, I had those tortas. I was in love all over again.
I made these a few times and discovered that either pizza dough (made with a bit of olive oil; my dough was left over from making grissini), or a basic French bread dough (no oil), can be used. I refrigerated the dough after the first fermentation and kept it a day or two before making the tortas.
I also found that incorporating the generous amount of olive oil into already-developed dough was neat and quick with a food processor, whereas by hand it was a bit messy, though certainly doable. Take your pick.
Tortas de Aceite (Olive Oil Wafers)
(adapted from La Cocina de Mama: The Great Home Cooking of Spain by Penelope Casas)
Ingredients:
125 g bread or pizza dough
1 T. sesame seeds
2 t. anise seeds
1/4 c. olive oil
zest of 1/4 lemon, in wide strips
1.5 t. anise liqueur
70 g flour
sugar for sprinkling
Method:
Preheat the oven to 375F.
If the dough has been refrigerated, remove it from the refrigerator.
In a small skillet over medium-high heat, toast the sesame and anise seeds until they are fragrant and the sesame seeds start to pop.
Optional step: Transfer the seeds to a mini-processor or mortar and pestle and grind them a bit (they should not be be completely ground up).
In a small skillet, heat the olive oil and lemon zest over high heat until the peel is black. Remove the zest and cool the oil.
Place the dough, seeds, olive oil, and anise liqueur in the bowl of a food processor. Pulse until the oil is evenly distributed through the dough (but it will not really be incorporated into the dough).
Add the flour and pulse until a homogeneous ball of dough forms. It will feel very soft and oily.
Turn the dough onto an unfloured counter and divide it into 8 balls (about 30 g each). Roll each ball into a 4-inch round (initially roll them a little larger to allow for some spring-back).
Place the rounds onto a parchment-lined baking sheet and sprinkle them lightly with sugar.

Bake for 15 – 17 minutes until the wafers are lightly brown.
Remove the wafers from the oven and turn on the broiler. When the broiler is hot, broil the wafers about 5 inches from the heat, until they appear toasted and some of the sugar has melted, about 40 seconds. (Watch them to make sure that they do not broil too long!)
Cool on a wire rack.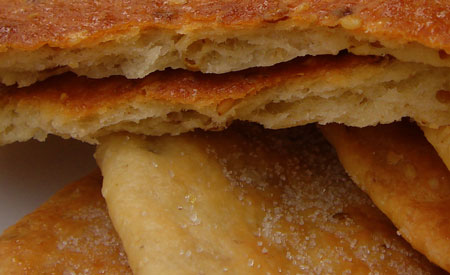 Enjoy these with morning coffee, or any time. If by some miracle they're not all gone within a few hours, you can wrap the wafers individually in waxed paper. But I've not been able to keep them around long enough to tell you how long they will last that way.
Filed in recipes • Trackback URI

Print with or without images
Comments Feed
zainab on October 11 2007 at 05:41 pm:

Another great recipe from you!
thanks for sharing.

ejm on October 12 2007 at 04:06 pm:

This looks great! (The only thing that confuses me is that you could have any left-over dough. )

-Elizabeth

P.S. Now I'm torn. Which to make first, grissini or Tortas de Aceite?!

Susan on October 13 2007 at 10:59 am:

Thanks, Zainab!

Elizabeth, why not make both? One batch of the grissini dough will be more than enough for 30 grissini plus a bunch of these and a pizza too.

michelle on October 14 2007 at 04:51 pm:

You Rock! These things sell for about $1 a piece at Whole Foods. I love you! I never thought I would find a recipe for this. Wow.

MyKitchenInHalfCups on October 15 2007 at 04:33 pm:

Susan those look like they'd be just ever so slightly sweet and killer good!

Susan on October 15 2007 at 06:30 pm:

Michelle, I hope you like the recipe. These are a little thinner than the ones at Whole Foods, but just as good, I think.

Tanna, I do think they're killer good, and you're right, not too sweet. The sugar could be left off the top for even less sweetness, but I like it because the broiled melted sugar adds a nice bit of caramel shine, which did not show too well in my photos.

ejm on October 17 2007 at 06:47 am:

Make both?! At the same time? Now there's a concept… (Duhhh. Why did I not think of that?)

-Elizabeth

blog from OUR kitchen » Bread Discs - the good kind on November 7 2007 at 02:09 pm:

[...] other day when I made grissini, I used part of the dough to make Susan's (Wild Yeast) Tortas de Aceite (Olive Oil Wafers). They may not look quite as nice as Susan's but I have a feeling that we like them as much as [...]

Susan from Food Blogga on November 8 2007 at 02:19 pm:

Olive oil wafers with anise? Oh, my, you've hooked me. Completely. I just found you from Elizabeth's link, and I'm so glad I clicked over here. I'm definitely trying these.

Susan on November 8 2007 at 03:34 pm:

Hello Susan, I'm glad you clicked over too. I hope you will love the wafers when you make them!

Diane on November 13 2007 at 12:46 pm:

Thank you, thank you, thank you!

I first had these in France and I adore them but have been unable to find anywhere local that sells them. I am making them tomorrow….

Susan on November 14 2007 at 07:48 am:

Diane, you're welcome. Please let me know how they turn out.

Mary Coleman on November 17 2007 at 05:32 am:

Wow!
What a great website. This looks absolutely divine. I know what I'm doing this afternoon.

Susan on November 24 2007 at 08:22 am:

Mary, I hope you like(d) them! Thanks for coming by.

Judith Myers on December 12 2007 at 09:28 pm:

Found these at Trader Joes last summer and have been searching for them ever since. Didn't know the
name. Finally tonight I sat down and searched until
I struck gold. Thank you, thank you, thankyou.
I will visit again.

Susan on January 6 2008 at 07:52 am:

Judith, you are very welcome. I didn't know they had these at Trader Joe's.

Chelle on February 24 2008 at 08:12 pm:

I wanted to chime in that I was so glad to find this recipe, I love these. I made them for the first time tonight, and while they didn't turn out as thin as they should, not a bad turn out for the first time, and they were easier to make than I thought. Taste wise, they're just as good as the ones made by Ines Rosales and that just bowled me over.

Susan on March 1 2008 at 08:39 am:

Chelle, glad you liked them. Interesting that yours weren't as thin as you'd like them. I struggle with not having them come out too thin!

Kate on March 4 2008 at 02:44 pm:

I discovered these just recently, after finding them at an upscale grocery store in Northern California (Nugget Markets). I *thought* they were salty crackers. What a delightful surprise. Excellent treat. Thanks for a recipe!

Chelle on March 27 2008 at 03:12 pm:

Susan,

I'm thinking it had to do with the fact that I didn't make my own dough; I had picked up a plain pizza dough already made at the grocer's here, needed to use it. Perhaps it was a lil overworked by the time it made it to rolling it out; it sprung back a bit when I was making the rounds. They were tasty just the same though.

From the Kitchen: Tortas de Aciete :: Sans.Dream.scape on April 10 2008 at 02:52 pm:

[...] come out that bad at all. I was pleasantly surprised. For the recipe, I'll direct you to Wild Yeast. Apart from pictures, I'll share how my attempt turned [...]

Aran on April 23 2008 at 10:47 am:

First of all, thank you for stopping by my blog and taking the time to comment. And I'm so glad because I discovered yours and I found you made tortas de aceite! I am originally from spain so to see these makes my mouth water. Gorgeous!

Norm on April 29 2008 at 09:57 am:

Many thanks for the inspiration for these. I was given the Penelope Casas recipe by a friend, but your adjustments to it made the whole thing easy. Now I just have to try not to burn them next time I make them!!!

Elizabeth on May 31 2008 at 10:42 am:

HI,

I've just been gathering up the ingredients to make these and I am a bit baffled by the amount of dough you note in the recipe . . .125 g? I measured it out and weighed it and it seems to only be enough for one wafer. I bought the dough from Trader Joes's and a 1 lb package is equal to 454 g.

Am I missing something and being totally dense? Hope to hear from you. I'm enjoying your blog.

Elizabeth

Susan on May 31 2008 at 11:01 am:

Elizabeth, the recipe calls for 125g pizza dough + 70 g flour + 1/4 c olive oil (55 g) = 250 g. This is enough for 8 wafers @ 30 g.

Jonas on June 25 2008 at 03:01 pm:

Looks great!

But because I'm from Sweden I'm not to familiar with the abbreviations of measures. Please help me by writing out the amount of sesame seeds, anise seeds and anise liquer!

Thanks!

Susan on June 25 2008 at 03:08 pm:

Jonas, in the US, "t." is the abbreviation for teaspoon, which is about 5cc (mL). "T." stands for tablespoon, which is 3 teaspoons.

Jonas on June 28 2008 at 03:35 pm:

Thanks!

"Tortas de aceite" are now my wife's new favorite (at least among wafers…). I've made them twice and 8 is quite enough after pizza. Really great mix with anise, sesame, sugar and the crispy structure of the wafer.

I forgot to taste the lemon zest olive oil before mixing it, so I have not figured out what the lemon zest brings to the wafer. But I'll check next time!

bean on July 18 2008 at 01:19 pm:

i'm crazy about HNOS. PRIETO GORDILLO (Sevilla)'s Olive Oil Crisp Breads [matiz anadaluz Torta de Aceite] made with Wheat Flour, VOO (24%), Almonds, Sugar, Sesame Seeds, Aniseed, Essence of Anise, Salt, Yeast. I never liked anise, but love it in this product-mild aftertaste& fragrance that is delightful! They are very expensive and I buy them as a treat-one a day. Wanted to buy enough to take to a friend's dinner party but it would cost about $100 to bring enough for everyone. I can't afford that and wanted desperately to find a recipe to make for large parties (i'll continue to support the Seville co. for myself, but look forward to trying your recipe for the party) much thanks!

Debi on October 30 2008 at 10:40 am:

What a small world. I just visited your website for the first time linking from Zorra's World Bread Day Roundup over the weekend. Then today I was following links from someone who clicked on a link to a post I wrote about the tortas when I found them at a local grocery store here in Chicago. I clicked on your link and found myself back at your beautiful site.

I'm also excited to see this recipe. I can't wait to make them!

blog from OUR kitchen » recent commenters' meme on November 6 2008 at 12:55 pm:

[...] Have you every tried something from number 9's blog? Yes! Several things! Tortas de Aceite, Semolina Bread with Fennel and Currants, Semolina Bread with Fennel and Currants, Grissini, the [...]

Denise on November 9 2008 at 10:17 am:

Hi!

125 g equals what in ounces/pounds?

Thanks!

Winter Blues: A Faribault Dairy Production « The Heavy Table on February 16 2009 at 01:10 pm:

[...] a wheel or large slice of Winter Blues at Lund's, purchase it immediately and serve it with tortas de aceite, but steer clear of the exterior unless you like culinary shock value. var addthis_pub = [...]

juliette on February 19 2009 at 01:02 pm:

finally, i found a recipe for tortas de aceite. thank you! i am tired of paying a ridiculous price for them at the grocer. i adore these treats from spain. it is also a wonderful snack with goat cheese spread on the tortas.

mary troast on February 27 2009 at 11:00 am:

Just came home from a store with these delicious tortas already prepared. I purchased them thinking they would be a good accompaniment to my fish dinner tonight but lo and surprised am I! These are so delicious (and so expensive to buy in a store already made) that I just had to log on to see if anyone had a recipe. Muchos Gracias! You have saved me muchos dinero! I can't wait to try your recipe!!!!!

Holly D on April 5 2009 at 03:35 pm:

I have been looking for a recipe for these for years. Thank you so much, I can't wait to try it. And, coincidentally, I have a huge batch of pizza dough aging in the fridge right now…

Tiny Banquet on April 13 2009 at 05:51 pm:

I can't wait to try this recipe! I have bought these often but they are very expensive, maybe $4 or $5 for a little packet of 5 of them. They're so ridiculously delicious that I keep buying them anyhow, and somehow I never thought to look for a recipe for them.

mar lou on May 27 2009 at 11:30 am:

Thanks for this sharing. I bought today a pack of these tortas as it is Spanish week in this chain of department store in Germany to see if they taste good. I love these tortas, brought home 10 packs when I visited Barcelona in 2005 and since then been looking around for them. Well, looking at the recipe, I think I will go back to this department store and get myself another 10 packs.
All the best…more baking power to you!

mar lou

Eloise on July 9 2009 at 10:31 am:

Could you please convert the grams for those of us not use to using the metric measurements.Thank you.I plan to maake these for my Daughter on my next visit to see her.She sent me this recipe as well as the " YUMM" word, which usually means she would love to have me make them for her.Thank You

Wendy on August 5 2009 at 02:30 pm:

This recipe sounds great. Where can I find anise seed and anise liqueur?

Thanks!

Susan on August 10 2009 at 04:00 pm:

Wendy, anise seed should be available in any well-stocked grocery spice section, and you should be able to find anise liqueur where other spirits are sold.

Katie on August 27 2009 at 06:47 pm:

Wow! I just made these tonight and they are fantastic. I used rosemary and no sugar or anise and they were very close to the torta I bought earlier today. Thanks for the great recipe. It's destined to be a staple in our house.

Cooking with Gourmet Olive Oil | Italian Olive Oil & Gourmet Olive Oil on September 11 2009 at 04:22 pm:

[...] Tortas de Aceite (Olive Oil Wafers) | Wild Yeast – Tortas de Aceite (Olive Oil Wafers). Oh my goodness. When my daughter went to Sevilla, Spain two summers ago, she brought back some tortas de aceite, the crisp, lightly sweet olive oil wafers traditionally made there, and I was in love. … [...]

Tortas de Aceite, One More Time « A Bread A Day on September 28 2009 at 02:07 pm:

[...] de Aceite Adapted from La Cocina de Mama: The Great Home Cooking of Spain, by Penelope Casas, via Wild Yeast Makes sixteen 4 inch [...]

Food For thought | 4 the Love of Food & Wine on January 25 2010 at 06:29 am:

[...] Tortas De Aceite and their Website [...]

Laura on May 12 2010 at 03:19 pm:

Hi Susan! I need to make these at the new restaurant where I work so I did a internet search and I started laughing, with pleasure, when I saw your site coming up. Off all places…

I have a question, obviously the dough is not let to leaven, right? Why use the left over pizza dough then, for flavor?

Thanks!

Susan on May 12 2010 at 04:28 pm:

Hi Laura,

The wafers are not proofed after shaping and before baking, but the yeast in the piza dough causes them to rise a bit in the oven. Also, yes, you get flavor from the initial fermentation the dough has undergone.

Laura on May 15 2010 at 06:52 am:

Can't wait to try them!

Grolocove on June 30 2010 at 07:11 am:

Comparative Medicine Ann Arbor Michigan http://www.targetednumberpicking.com/ – levitra price
levitra vardenafil
buy levitra

Philippine Lotto Result on October 13 2010 at 04:07 am:

we always use olive oil on our cooked foods because it has very low saturated fat.;,

Sweetie Bracelet : on October 24 2010 at 02:25 pm:

the taste of olive oil is very very good, it is one of the best tasting cooking oils out there.`;

Tortas de Aciete on December 13 2010 at 02:28 am:

[...] come out that bad at all. I was pleasantly surprised. For the recipe, I'll direct you to Wild Yeast. Apart from pictures, I'll share how my attempt turned [...]

Carlos Fernandez on January 18 2011 at 01:09 am:

This recipe is very usual in the south of Spain but the most delicattessen are in Seville and specialy in little town near Seville (Aljarafe) named "Castilleja de la Cuesta" (llitle castle of uphill). Here it's very famous the tortas of INES ROSALES or CANSINO (The relative family of Rita Hayworth) The street of this town smeell to anissed (matalauva – "killthegrape" ha, ha), olive oil an bread very well.

ComidaDeMama » Comidademama a Siviglia. Tortas de aceite di Inés Rosale on February 7 2011 at 09:55 am:

[...] |The story of Inés Rosales | Inés Rosales | ricetta 1 | ricetta 2 24 Jun This entry was written by Elena, posted on 24/06/2009 at 10:17 am, filed under [...]

Mari on February 18 2011 at 10:13 am:

I bought the tortas of INES ROSALES at costco.
Costco has it now.

Julie in FL on April 14 2011 at 11:17 am:

Mari (if you read this message): Can you specify how much Costco sells them for in your area? Our military commissary here in Florida sells them for $5.29/pkg. I'm excited to have found a recipe, but there are times when I will want a treat but will not have the time/inclination to bake.
Thanks, Julie

Asti on July 6 2011 at 06:01 am:

Devouring a packet of AUD$14 Ines Rosales with much guilt. I've only seen and sampled plain olive oil and saville orange in Australia. I feel like I need to re-mortgage each time I walk past them. This recipe is awesome!

Geraldine on July 24 2011 at 09:18 am:

Thank you for this receta, i was looking to make these tortas de aceite, I found them in East Aurora, NY at Tops, I bought all the cinnamon from the shelves, but I will make them now. Gracias.

paul brincau on August 14 2011 at 01:34 am:

where do you buy these tortas in England?

gt on July 2 2012 at 11:49 am:

is the anise liqueur absolutely necessary? can i skip it? or are there any alternatives?

Melisa on August 10 2012 at 09:02 pm:

I'm gone to inform my little brother, that he should also go to see this weblog on regular basis to obtain updated from most up-to-date information.

Tera on August 29 2012 at 11:51 pm:

Simply want to say your article is as astonishing.
The clarity for your submit is just cool and i can think you're a professional in this subject. Fine together with your permission let me to snatch your RSS feed to keep updated with drawing close post. Thank you 1,000,000 and please keep up the gratifying work.

Fawn on August 31 2012 at 03:14 am:

Greetings! I know this is kinda off topic but I was wondering if you knew
where I could locate a captcha plugin for my comment form?
I'm using the same blog platform as yours and I'm having difficulty finding one?
Thanks a lot!

Lorri on September 1 2012 at 11:45 am:

I think this is one of the most significant information for me.
And i am glad reading your article. But wanna remark on few general things, The web site style is ideal, the articles is really great :
D. Good job, cheers

Lee on November 9 2012 at 05:03 pm:

Could you use wholewheat or spelt flour as opposed to white? Would like to make a healthier version – what do you think?

Thanks

Lee

Evelyn on November 14 2012 at 12:31 pm:

I do agree with all the ideas you have presented in your
post. They are really convincing and will certainly work.
Still, the posts are too short for beginners. Could you please extend them a bit from next time?
Thanks for the post.

Sherry on November 14 2012 at 07:17 pm:

I was recommended this web site through my cousin. I am not certain whether or not this publish is written by him as no one else recognize such designated approximately my problem.
You're amazing! Thank you!

More Tips on November 25 2012 at 04:22 pm:

Useful information. Lucky me I discovered your web site unintentionally, and I am surprised why this accident did
not happened in advance! I bookmarked it.

Carrol on December 13 2012 at 09:22 pm:

As a Newbie, I am continuously searching online for articles
that can benefit me. Thank you

Mapa on December 30 2012 at 02:28 pm:

My cousin from Castilleja ( sevilla) just brought me tortas from the " hermanos prieto Gordillo" …already had tried Inés Rosales ones but this ones are TOP. Can anyone tell me where I can buy this in NY or London? Xx

Tortas de Aceite – a fine snack « con jamón on February 14 2013 at 11:46 am:

[...] How to make them (Wild Yeast blog) [...]

Linda on February 25 2013 at 12:44 pm:

Please help…I bought 1 pound of pizza dough to make these – (it's 450 grams) …if I make the entire dough I will have to multiply the other ingredients by 4 correct?

Susan on February 25 2013 at 01:52 pm:

Linda, if you want to use 450 grams of dough (which is 3.6 x 125 grams), you will have to multiply all other ingredients by 3.6.
Post a comment