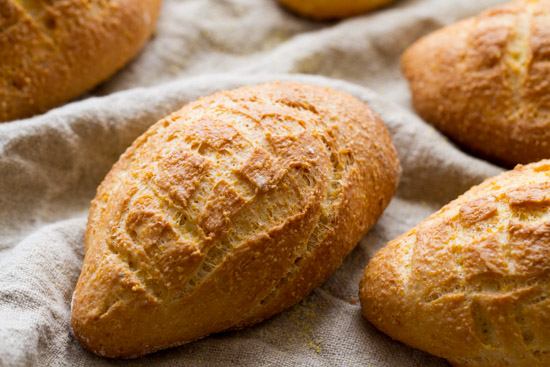 There's cornbread — spongy, sweet, and efficiently leavened with baking powder — and there's Corn Bread: hearty and crusty, with the hard-won flavor than can only be achieved with yeast and time. And then there are these Corn Bread Rolls, which are fun to shape, if not precise replicas of the ears of maize that represent a bountiful harvest. Or little lopsided footballs, depending on your preferred meaning of Thanksgiving. Or maybe both, like when my dad took me to the thrilling Nebraska Cornhuskers game in Lincoln on Thanksgiving in 1965.
May your holiday be filled with what gives you sustenance, people you love, a little bit of excitement, and appreciation of blessings and hard-won victories, whatever yours may be.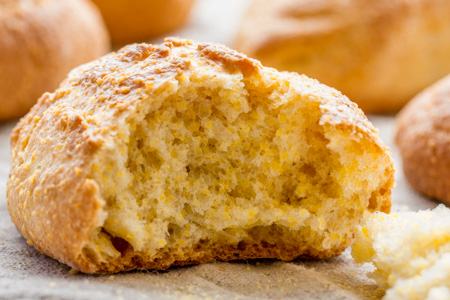 To make 12 "ears," I divided the dough into 24 pieces of about 50 grams apiece, and rolled them on the counter under my cupped hand to form balls.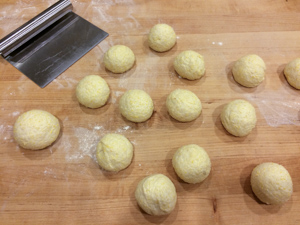 After a 20-minute covered bench rest, the shaping fun begins. Each roll uses two dough balls. Flatten one ball into a disk about 4 inches in diameter. Roll the other ball to shape it into a point at one end.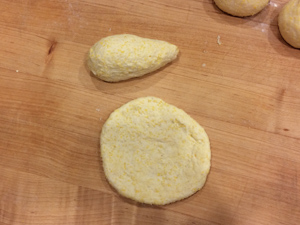 Wrap the "husk" around the ear and pinch it closed at the fat end.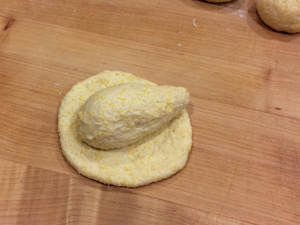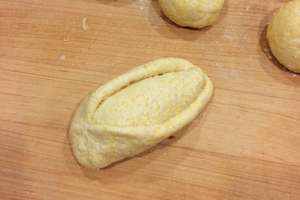 After the rolls have been proofed in a floured couche, arrange them on a semolina-dusted peel (as many as will fit on your baking stone at one time) before scoring the center portion of each roll in a crosshatch pattern to resemble kernels. Go quickly and don't worry about being sloppy. No one will care.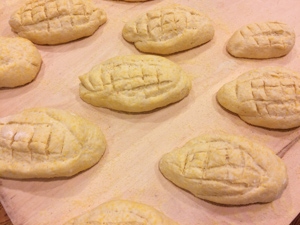 The recipe makes 12 rolls, which just fit on my 15 x 23 inch baking stone. If your stone is smaller, bake them in two batches. It's a little tricky to transfer the rolls from the peel to the stone while maintaining the space between them. Again, a quick jerk of the peel is better. But again, no one will care if  it's not perfect.
Corn Bread Rolls
Yield: 12 rolls
Approximate Time:
Mix/ferment sponge: 4-6 hours
Mix final dough: 10 minutes
First fermentation : 1 hour
Preshape, rest, and shape: 35 minutes
Proof: 1 hour
Bake: 25 minutes
Desired dough temperature: 75F
Sponge Ingredients:
190 grams flour
83 grams coarsely-ground yellow cornmeal
144 grams water
2.5 grams (7/8 teaspoon) instant yeast
Final Dough Ingredients:
380 grams flour
166 grams coarsely-ground yellow cornmeal
313 grams water
16.5 grams (2 3/4 teaspoons) salt
73 grams olive oil
5.5 grams (1-7/8 teaspoons) instant yeast
all of the sponge
Method:
Combine all of the sponge ingredients and mix just until just incorporated. Cover and let rest at room temperature (about 70F) for 4-6 hours. When the sponge is ready to use, it will be doubled in volume and the surface pebbled with bubbles.

In the bowl of a stand mixer with a dough hook, combine all of the dough ingredients, holding back a little of the water. Mix in low speed to incorporate, adjusting  the water as needed to achieve a medium-soft dough consistency.
Continue mixing in low or medium speed to a medium level of gluten development. The graininess of the cornmeal will make it a bit challenging to pull a windowpane, but you should be able to do it if you're gentle.
Transfer the dough to a lightly oiled container. Cover and ferment at room temperature for about an hour, until the dough volume increases by about half and it feels lively in your hands.
Turn the dough into a lightly floured counter and shape the ears as described above. Place them (right side up) on a floured couche.
Proof, covered, for about one hour, until the indentation left by a fingerprint fills in very slowly and about halfway.
Meanwhile, preheat the oven, with baking stone, to 475F. You will also need steam during the initial phase of baking, so prepare for this now.
Score the rolls as described above.
Once the rolls are in the oven, reduce the temperature to 450F. Bake for 8 minutes with steam, and another 17 minutes or so without steam, until the crust is golden brown.
Cool on a wire rack.