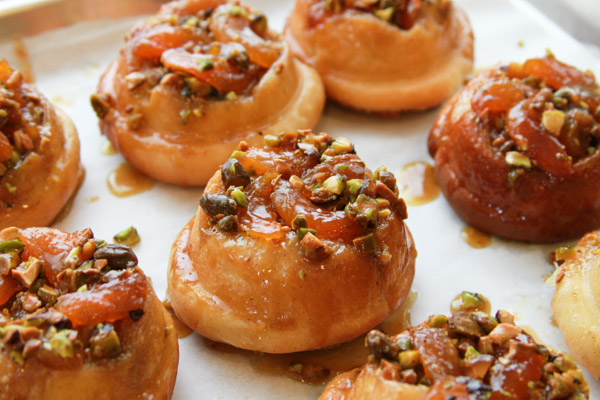 In these sticky buns, the traditional raisins and pecans are replaced with dried apricots and pistachios. Shelled pistachios can be a bit hard to find, but I came away from my last flour run to Costco with a big bag, roasted and salted. Of course, just about any nuts and dried fruit will work. Just remember to get a big package of napkins at Costco, too; they're not called sticky buns for nothing!
Apricot-Pistachio Sticky Buns
Yield: 18 buns
Time:
Mix: 10 minutes
First fermentation: 2 hours at room temperature, then overnight in the refrigerator
Shape: 15 minutes
Proof: 60 – 90 minutes
Bake: 25 – 30 minutes
Dough Ingredients:
518 g flour
280 g milk, at room temperature
54 g sugar
50 g (1 large) egg, at room temperature
10 g instant yeast, preferably osmotolerant
10 g salt
5 g diastatic malt (omit if unavailable)
seeds scraped from one vanilla bean
78 g unsalted butter, softened
Filling Ingredients:
70 g sugar
65 g brown sugar
1/2 t. cinnamon
1/2 t. cardamom
80 g dried apricots, finely chopped
60 g shelled pistachios, finely chopped
Topping Ingredients:
18 T. butter
18 T. brown sugar
18 dried apricots, cut into quarters
90 g shelled pistachios, chopped (about 9 tablespoons)
Method:
In the bowl of a stand mixer with dough hook, combine the dough ingredients except the butter. Mix in low speed until the ingredients are incorporated and hold together around the hook.
Continue mixing in medium speed as you gradually add the butter.
Continue mixing to a medium-high level of gluten development.
Transfer the dough to a buttered container. Cover and ferment for 2 hours at room temperature.
Line a baking sheet with parchment paper and flour t lightly. Pat the dough into a rectangle on the parchment, slip it into a plastic bag, and place in the refrigerator for 8 – 12 hours.
Meanwhile combine the filling sugars, cinnamon, and cardamom in a small bowl, and the filling apricots and pistachios in another bowl.
Before removing the dough from the refrigerator, butter 18 muffin tin cups, or spray them with pan spray. You will also want to butter or spray the top surface of the tins.
Place one tablespoon of butter in each cup and press with your fingers to form an even layer of butter. Top the butter with one tablespoon of brown sugar, again pressing into an even layer.
Sprinkle 1 1/2 teaspoons of chopped pistachios over the sugar, and arrange four apricot quarters on top of the nuts.
Preheat the oven to 340F on the convection setting, or 360F on the conventional setting.
Turn the dough onto a floured counter. Roll it into a rectangle about 14 x 21 inches. Brush the dough lightly with water.
Spread the filling sugar mixture over the dough, leaving a one-inch border along one long edge. Distribute the fruit-nut mixture evenly over the sugar.
Starting at the edge opposite the unsugared border, roll the dough rather loosely into a log.
WIth a sharp knife, cut the log into into 18 rounds. Place the rounds into the prepared muffin tins and press them down gently onto the bottom layer (which will become the sticky syrup topping).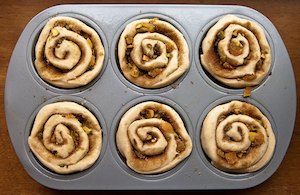 Proof, covered, 60 – 90 minutes at room temperature, until the indentation left by a fingertip springs back slowly.
Place the muffin tins on rimmed baking sheets. Bake for 25 – 30 minutes, until the buns are golden brown and the glaze is bubbling up from below (the reason for the rimmed baking sheets!).
Invert immediately onto parchment-lined baking sheets, being very careful not to get any of the hot syrup on your skin.
These are best served when still slightly warm.