Kevin, Susan, and Beth at A Year in Bread (one of my favorite sites) have called for favorite bread stories. A contest, actually, but I would have written this even if there were no prizes at stake. I don't know if it's really my favorite story, or even a good story, but it's one that means something to me right now.
Bread Cat

We have a cat named Stripes. (This is what happens when you let 4-year-olds name pets.) We adopted her about 12 years ago, when she started hanging around our back porch. We thought she was a stray, but we learned that she had belonged to a neighbor, and when the neighbor got a dog, the cat refused to step foot in the house ever again. (For whatever reason, this did not happen when we got a dog, a few years later.)
Stripes was never an overly friendly cat (is there such a thing?), and I have to admit I was not particularly fond of her. She would come around for the occasional head-petting, but, lest you get too comfortable with all the affection, she would, as often as not, turn around and give you a little nip or clawing for it. She wasn't much trouble to take care of, though, and the kids liked her (or at least the idea of her), so she stayed. I can't say it broke my heart that she spent most of her time outdoors.
When we first started feeding Stripes, before she was officially ours, we gave her things we had around, like the archetypal saucer of milk, or some canned tuna. She pretty much turned up her nose at these things, and when I started buying cat food, she ate it, but she never ate very much. She was not what you would call an enthusiastic or adventurous eater, notwithstanding the occasional unlucky rodent.
Then one day about a year ago, I was in the kitchen and I heard, coming from just behind me, what sounded like kitty nibbles. Funny, because we don't keep her food in the kitchen. I turned around to find Stripes on the island, chowing down on some sourdough I had sliced for dinner. She was not merely sniffing, investigating, even tentatively licking, this bread. She was devouring it.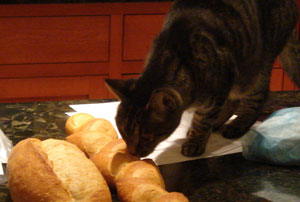 Thus I discovered that this grouchy, finicky kitty is a sucker for home-baked bread! I didn't let her have it often, thinking that it really isn't the sort of nutrition a cat needs, but every time I offered a few morsels, she gobbled them up. I couldn't leave sliced bread unattended when Stripes was around. It was a small pain in the neck, but on some level, it was gratifying to know that I made something that satisfied this curmudgeonly creature, and I respected her for her good taste.
A few months ago, we noticed Stripes being considerably more affable. She started coming around regularly for cuddling, (usually) no longer rewarding you with a nice chomp for your trouble. She even began nuzzling our little dog, to whom she never used to give the time of day. She also slowed down considerably, no longer able to easily scale the island where I first discovered her indulging her penchant for sourdough.
We attributed these changes to her advancing age (she is now 15 years old), but a couple of weeks ago, thanks to our dedicated and alert pet-sitter, we learned that Stripes has chronic kidney failure. It turns out she is a pretty sick little animal and it's unclear how much longer she will live.
Now my heart aches for my poor little pet, my fellow bread lover. Thankfully, she doesn't seem to be in pain, and she appears to enjoy our company. Still, she doesn't have much joy in her life: she can't do much outdoors any more, and has to endure twice-daily needle sticks so we can give her fluids. She's on a special kidney-gentle cat food that she's only nominally interested in, but the vet says we must try to get her to gain back some of the weight she has lost.
So, because she needs to eat, and because she deserves a little enjoyment, tonight I gave Stripes some bread. Just a little, cut up into tiny sick-cat-sized pieces. To my great delight and relief, she ate it up.