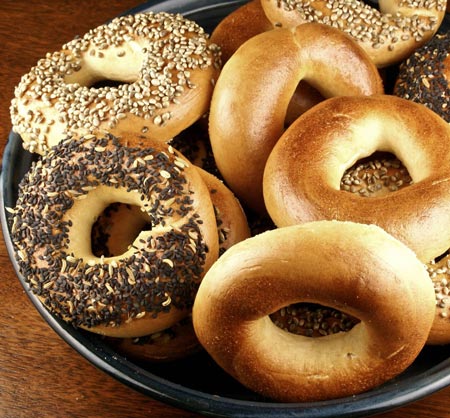 I am not a bagel expert. I do not claim to know how to identify or bake an authentic bagel. However, I do know what I like, and I like dense, chewy bagels. Bready bagels are just bread in the shape of a doughnut. What's the point of that, please? And to get a chewy bagel, you need one thing: gluten, and lots of it.
I make bagels often, and normally use high-gluten flour (King Arthur Flour's Sir Lancelot) to achieve the stiff, smooth, incredibly strong dough that yields optimal chewiness. This time, however, when I went to reach for that flour, I came up empty-handed. And because it was the hottest day of the year, I just had to have bagels. (You're the same way, right?) Vital wheat gluten to the rescue.
Vital wheat gluten looks like flour but is essentially pure gluten. It is readily available, packaged or in bulk, in many grocery and natural foods stores, or can be ordered online. I found that replacing the high-gluten flour in my usual sourdough bagel recipe with a mixture of 97% flour (the regular flour I use for bread) and 3% vital wheat gluten gave me a bagel that was virtually indistinguishable from the original.
There are two schools of thought regarding bagel shaping. As with boxers vs. briefs, Mac vs. Windows, or over-the-roll vs. under-the-roll, people seem to fall uncompromisingly into one camp or another. Yes, I have tried the punch-a-hole-in-a-ball-of-dough-and-stretch-it-out method, but the roll-the-ends-of-the-snake-together method is far superior. It just is.