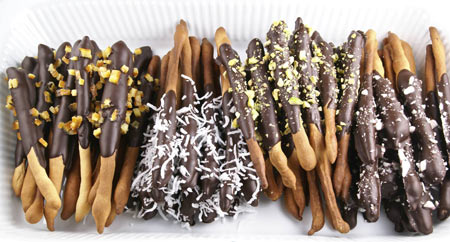 Quick, for 10 points: Pocky is/are:
a quintessentially Japanese snack
a thin sweet bread stick coated with chocolate and optionally topped with something else delicious
a fun alternative to traditional holiday cookies
easy to make at home
all of the above
(Hint: it's E.)
I got the idea from Not Quite Nigella's enchanting Pocky Christmas Forest, and used her recipe. Finely diced candied orange peel, shredded coconut, chopped pistachios, and crushed peppermint candy make fine toppings, but the possibilities are limitless.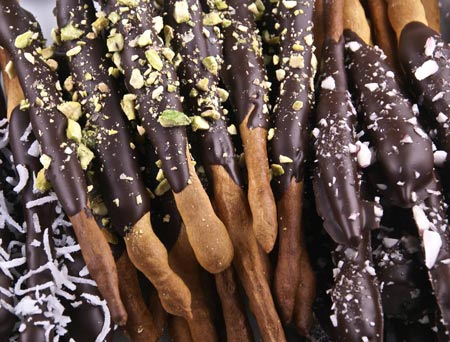 I made one change to the original recipe: after cutting the strips of dough, I stretched them out, folded them in half and twisted the two halves together. I thought this would make the Pocky stronger. I don't know if it did that, but it did make them lumpier.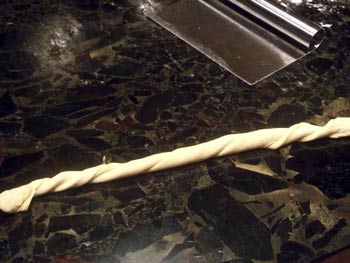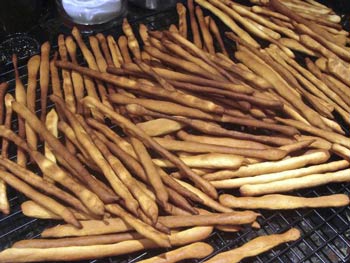 You will not find any Japanese Pocky looking like this. However, Japanese culture does embrace the concept of wabi, which roughly means finding beauty in imperfection, especially of handmade objects. So I guess we could call these Wabi Pocky. Maybe there's also a Japanese concept that means "finding charm in posting something on your blog a year after you actually make it."