I have been in Japan for the past week! Of course I was interested to find out what the baking scene is like here, and I was a bit surprised to find that bakeries are perhaps more numerous than I found even in Paris. The Japanese do bake and eat a lot of bread and pastries! Much of it is Western artisan style, and although I did not sample any of those breads, I must say that, if appearance is any indication, these bakers really give the Europeans and Americans a run for their money. In fact, the Japanese team won the Coupe du Monde de la Boulangerie, a triennial international artisan baking competition, in 2002 (they came in third, behind the USA and France, in 2005).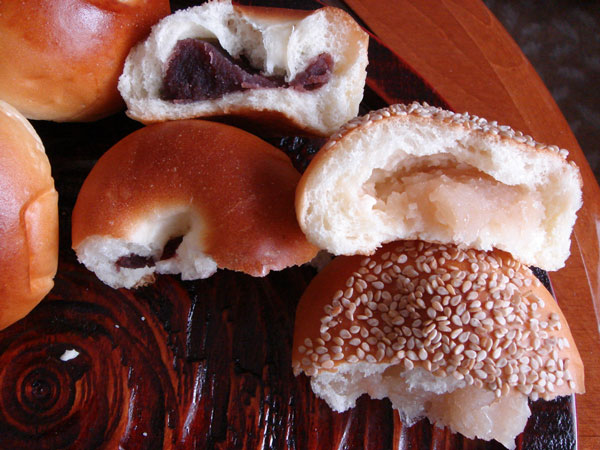 But I wanted to know if there was a bread that is distinctly Japanese, and a Japanese friend directed me to Kimuraya in the Ginza district. Established in 1869, this is one of the oldest and most well-known bakeries in Tokyo, and its founder is responsible for introducing their signature anpan, a uniquely Japanese bread. These small buns bear a resemblance to miniature hamburger buns or bagels but are soft, a little sweet, and filled with sweet red, white, or green bean paste. The filling may also include a little pickle, sesame paste, or other ingredients. The dough is made with the same yeast used to ferment sake.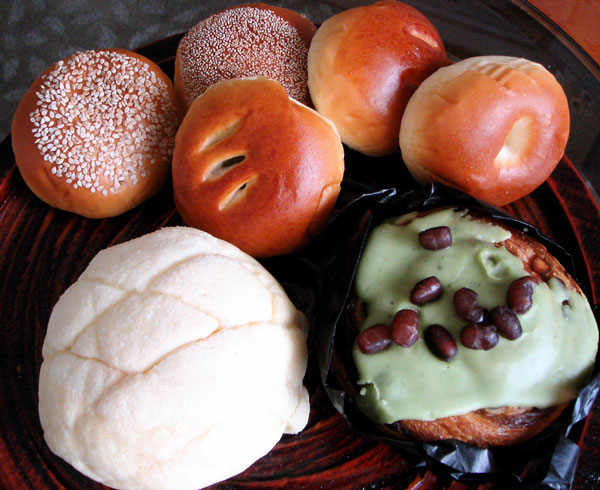 The photo above shows my take from Kimuraya: five anpan, a Danish-like pastry with green tea icing and whole beans inside and on top, and melon pan, another type of Japanese bread seen in almost every bakery. Melon pan, so named for its appearance rather than its flavor, is another sweet, soft bun crusted with cookie dough, and may include some type of filling. This one was filled with a mango custard, and quite tasty.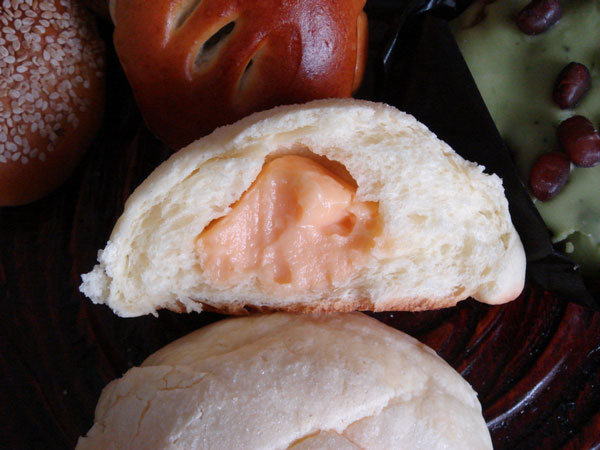 In the basement of each and every department store are (usually two floors of) amazing food halls containing every imaginable type of edible delight: not only baked goods but produce, meats, ready-to-eat foods, packaged gift foods, and more, all beautifully displayed according to the exquisite Japanese aesthetic. Two types of melon pan are seen in this photo, taken in one such food hall. I sampled the green one, which was filled with sweet bean paste and covered with tea-flavored cookie dough. Very delicious, if a little crumbly and messy to eat.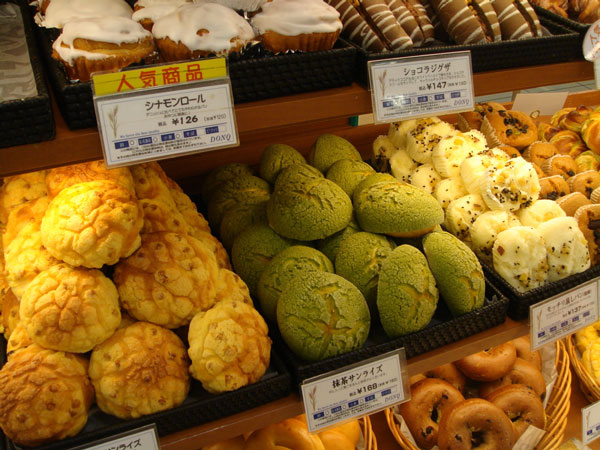 In a few hours I leave Japan… for now. I will return, to soak up more of this unique culture and perhaps learn how to bake some of these wonderful breads.