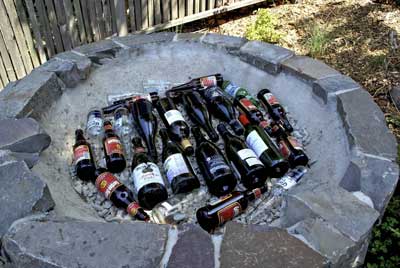 I can't figure myself out sometimes.
The smallest of tasks, such as hanging pictures, can get me so bogged down in analysis paralysis that they often languish for months or even years on my to-do list, while I try to decide the position of everything to the last sixteenth of an inch, and just what size nail would be perfect for each one.
And yet I'm apt to dive into more involved projects with only the barest hint of an idea of what the hell I am doing. For example, I now find myself muddling through in a fairly clueless sort of way, here at my home-away-from-home, the construction of a wood-fired mud oven.
Not that I'm flying completely blind here. I do have both inspiration and direction from the definitive book on the subject, Build Your Own Earth Oven by Kiko Denzer, and from very helpful photos and advice from several oven builders around the internet.
But have I ever built anything? Not unless you count my toothpick model of Plymouth Plantation in fifth grade. Am I strong enough to be hauling 50-pound buckets of dirt around? Barely. Have I ever even baked bread in a wood-fired oven? Well, now that you mention it, that would be a no. Am I completely stupid? Quite possibly.
I guess I figure people have been making and baking in earth ovens for thousands of years, so it can't be rocket science. Uh, can it? We'll see how this turns out.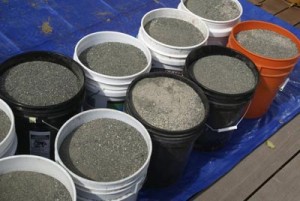 I'm lucky (OK, spoiled) to have had someone build the stone base for me, help me obtain some of my materials, and (especially) haul about half a ton of sand, bucket by bucket, up the 30 steps to the oven site. I think that's 3/4 of the battle right there.
Here's what I've done so far, starting with a stone base filled to within 8 inches of the top with drain rock:
For an insulating layer, I laid empty glass bottles on their sides and filled the spaces with a mixture of perlite and clay slip.
On top of that, a layer of the oven mud, (soil, sand, and water, mixed up with my feet) to form a the subfloor. I am allowing this to dry for a couple of days, after which I'll spread a thin bed of sand upon which to set the firebrick hearth.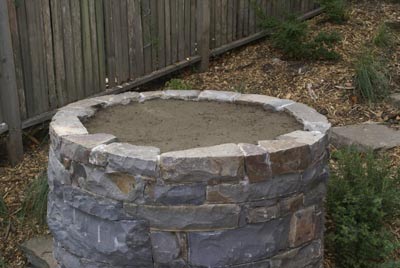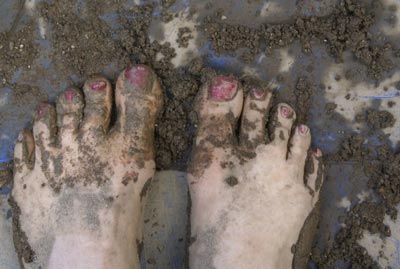 I need to go find a nail brush. Stay tuned…