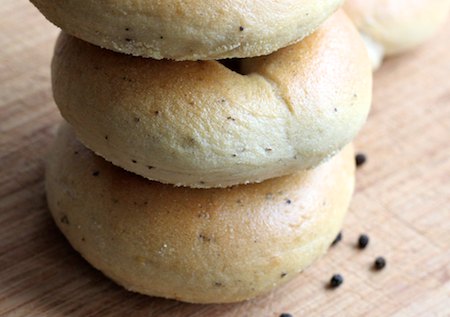 Here on the West Coast we have a chain of bagel restaurants whose namesake is an ark-builder that rhymes with a feathered neckpiece worn by Mae West (you got that?). While I have always found their bagels a little too puffy and bready for my taste, there is one that makes my heart skip a beat.
I admit it, I'm a sucker for that ark-builder's peppercorn-potato bagels. But, while I will not be so immodest as to say my sourdough version is better, it is chewier, and makes a damn good tuna sandwich. If you like a bagel that bites back when you bite into it, this could be your creature. Try them one by one or two by two, and decide for yourself.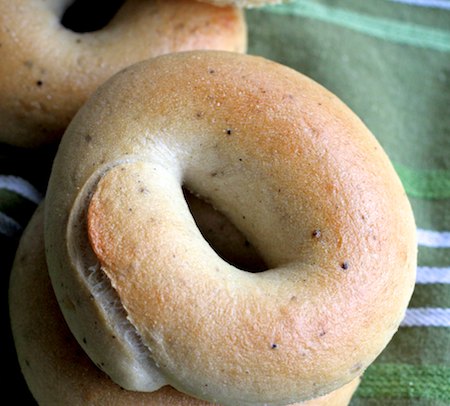 The method for making these is pretty much the same as for my plain sourdough bagels, but here are a few things to be aware of:
The dough will seem extremely dry at first (more dry than regular bagel dough), but will become softer and more supple with continued mixing. Resist the temptation to add additional water unless you are quite sure you need it — and you probably don't. As with all bagel dough, mix until the surface of the dough feels like a new tire.
I used baked potato flesh. If you use boiled potatoes, they'll be wetter, so you'll need to cut down on the water you add to the dough. (How much will depend on your potatoes, but remember bagel dough should be dry!)
The potato makes the dough sticky. This will be especially apparent when you go to peel the proofed bagels off the parchment paper, if you haven't sprinkled enough semolina on it. Use what you think ought to be enough, then double it. Make sure you brush the excess semolina off the bagels before boiling them.
Adjust the amount of pepper according to your taste. The amount given in the recipe yields a moderately spicy bagel. The first time I made these, I used twice as much; they were edible, but your mouth may not thank you if you go that far.
Peppercorn-Potato Sourdough Bagels
Yield: 8 bagels
Time:
Mix: 10 minutes
Rest, divide and shape: 35 minutes
Proof: 2 – 4 hours at room temperature plus 4 – 12 hours in the refrigerator
Boil: 10 minutes
Bake: about 28 minutes
Desired dough temperature: 80F
Ingredients:
320 g high-gluten flour, or 310 g flour plus 10 g vital wheat gluten
112 g baked potato flesh, mashed
91 g cold water
8 g (2 teaspoons) light brown sugar
10 g (1 2/3 teaspoons) salt
4.5 g (1.5 teaspoons) black peppercorns, cracked
275 g active 100%-hydration sourdough starter
1 tablespoon baking soda for boiling
Method:
Combine the flour, potato, water, brown sugar, salt, pepper, and starter in the bowl of a stand mixer. Mix on low speed to combine. The dough will start out seeming very dry but will get more supple with continued mixing.
Mix on medium-low speed until the dough is very smooth and strong, almost rubbery. How long this takes will depend upon your mixer.
Turn the dough out onto an unfloured counter and work a few turns by hand. Form the dough into a smooth ball; the surface should feel satiny and tight.
Cover the dough loosely with a towel and let it rest for 10 minutes.
Divide the dough into 8 pieces of about 100 g each. Form each piece into a light ball, cover, and let rest for 10 minutes.
Meanwhile, line a cookie sheet with parchment paper and dust it very generously with semolina.
To shape each bagel, roll the dough into a cylinder about 8 – 10 inches long without tapering the ends. Wrap the cylinder around your hand, with the ends overlapping by about two inches in your palm. Roll your palm on the (still unfloured) counter to smash the ends together. (Note: if the dough is a little dry, give it a quick spritz of water with a fine spray bottle before shaping. This helps it roll more easily, and the ends stick to each other.)
Place the bagels on the prepared cookie sheets, and slip into a large food-grade plastic bag or cover with plastic wrap. Proof for about 2 hours at warm room temperature (longer if your room is cooler), until the bagels look and feel a bit puffy. Then refrigerate them for at least 4 hours, or up to overnight.
Meanwhile, preheat the oven to 425F and put a large pot of water on to boil.
When the water is almost boiling, place a cooling rack on the counter with a dishtowel underneath it. Remove the bagels from the refrigerator, brush the semolina off their bottoms, and place them on the cooling rack.
When the water has reached a rolling boil, add the baking soda. Drop the bagels, three or four at a time, into the vigorously boiling water for 20 seconds. They may or may not float right away, but they should float by the time the 20 seconds are up. If they float right away so the tops are not submerged initially, flip them over about halfway through the boil.
Remove the bagels from the water to the cooling rack with a slotted spatula. Let them drain for about 30 seconds before replacing them back onto the semolina-dusted, parchment-lined cookie sheet.
Turn the oven down to 400F once the bagels are in. Bake until golden brown, about 28 minutes. About halfway through baking, open the oven door briefly to vent any steam.
Cool on a wire rack.