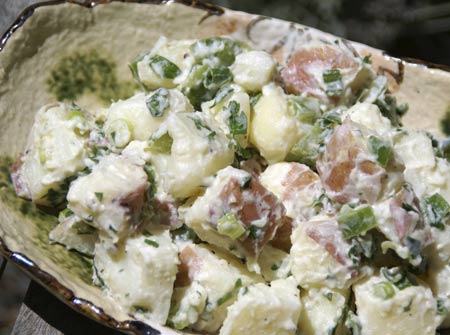 My son B and his girlfriend J called from school the other day, wanting to know the ingredients in the potato salad I made when they were here a couple of weekends ago. They were planning to cook a steak also. They are cooking, hallelujah! I don't know, and can't honestly say I want to know, everything B is up to when he's out of my reach, but it's a little comforting to know it's not all fast food all the time.
This is the potato salad I have made ever since I can remember, and it's notable if for no other reason than that both my kids like it. Now I normally am not the person you want to go to for any recipes that don't include yeast, or at least flour. But what the heck, it's really good potato salad, and the Fourth is coming, and it's not really a recipe anyway, more like a collection of ingredients.
Of course having this online could mean B calls just that much less often (because does he call when he doesn't want or need something? not so much), but he doesn't read here that I know of. So if you see him, please keep your mouth shut about it, OK?
If you're unsure about the meaning of "good-sized," "some," "a few," etc., please read what David Lebovitz has to say about "handfuls."
Potato Salad
Yield: About 6 servings
Ingredients:
5 or 6 large-ish red potatoes, scrubbed, unpeeled, cut into 1-inch cubes, boiled until al dente and cooled
1/2 to 1 green pepper, chopped
Some flat-leaf parsley, chopped
A few scallions, thinly sliced
A good-sized dollop of mayonnaise
An equally good-sized dollop of plain nonfat yogurt
Salt and freshly ground pepper to taste
A little chopped fresh dill (optional)
Method: Combine everything.