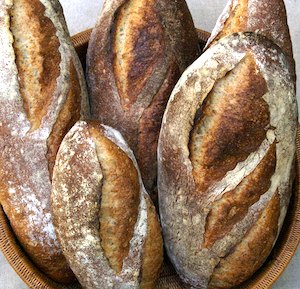 This video demonstrates my method for shaping a pointy batard. It assumes the dough has already been preshaped into a boule and rested for about 25 minutes.
(If you can't see the video here, view it on YouTube.)
Once the batard is shaped, it can be placed seam-side-up, into a floured couche for proofing. It could also be placed into a floured oval basket, although a blunt batard shape is usually better for this; stay tuned!