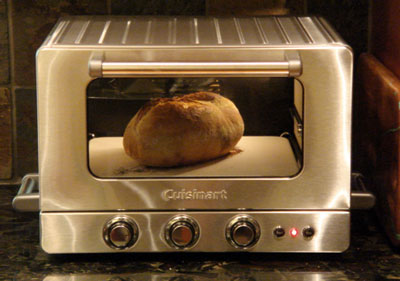 Meet my new best friend: the Cuisinart Brick Oven BRK-200. I rarely bake one loaf of bread at a time, so I wouldn't have sprung for this if I didn't have plenty of other items on its agenda, but this countertop oven happens to turn out a wonderful loaf. Read more of my thoughts on the oven in my review at Just Baking.
Filed in tools • Trackback URI

Print with or without images
Comments Feed
wandering quilter on September 17 2007 at 11:08 am:

Uh oh… this is going to get me in a world of trouble, I can see it now. I could really use that in the RV! Does it really heat up to 500 degrees? The convection oven I bought says it will, but it tops out at 300.

Susan on September 17 2007 at 05:53 pm:

Wandering quilter, I don't have an over thermometer worth a darn, but from the way I'm observing it baking, I would say that 500F is about right. Just be aware that it also gets quite hot on the outside, which might have implications if you're using it in a small space.

wandering quilter on September 18 2007 at 07:04 am:

I would be using it in the basement of our RV. Can you tell me if a La Cloch or the French bread pan would fit into this oven?

Susan on September 18 2007 at 08:29 am:

I doubt a La Cloche would fit, but the oven chamber is so small that it, itself, acts like a cloche, so no steam or cloche is needed. The interior is about 12 x 12 inches and just under 6 inches high from stone to top element.

Baking Soda on September 19 2007 at 02:03 pm:

Hi Susan, this is a tempting device if I ever saw one.. maybe it is a good thing I'm a long way from the States..

wandering quilter on September 21 2007 at 11:34 am:

Thanks Susan, darn it, probably too small of an interior for me to justify it. Thanks for the dimensions!

MyKitchenInHalfCups on September 28 2007 at 11:18 am:

That is really an interesting review. I'd love to see this and will look for it.

Pat Cerasa on December 1 2007 at 09:36 am:

Hi,
I have been looking for an answer to my problem. I just received this oven for an early Christmas present. I love it….except that it starts beeping soon after I put bread in to toast and also when I bake something. If I turn it off and then turn it on again…it doesn't do it. Am I doing something wrong? The instruction booklet doesn't give a trouble shooting page and when I called Cuisinart…they just said to send it back. I don't want to go through that bother, if I could be doing something wrong. Can you help me? Thanks, Pat

Susan on December 2 2007 at 04:56 pm:

Pat, I'm sorry you're having this problem and wish I could be of some help. I have not encountered this so I'm afraid I can't offer any insights as to a solution. Good luck working with Cuisinart to get this resolved.

Bettie, Dallas TX on July 23 2009 at 09:00 pm:

How large a loaf/boule have you cooked in this oven? I'm having trouble with the top burning. I started it cold, set it at 450 and cooked for 15 minutes. Turned it down to 400 and cooked it for 30 minutes. Internal temperature is now about 160 and part of the top is black!

I need guidance, please.

Thanks,
Bettie

Claudia on October 22 2009 at 05:39 pm:

I love your blog — all the photos and tips are really inspirational!

I know it's been a while, but do you still have a copy of your review? The link is broken; I managed to find the new address, but unfortunately your review wasn't one of the archives copied over.

Dwight on May 6 2010 at 10:24 am:

Susan, the links to the oven, and especially your reveiw, seem to not be working. Can you restore them, if possible.

From time to time, I see questions about the oven over at thefreshloaf.com.

Thanks.
Post a comment