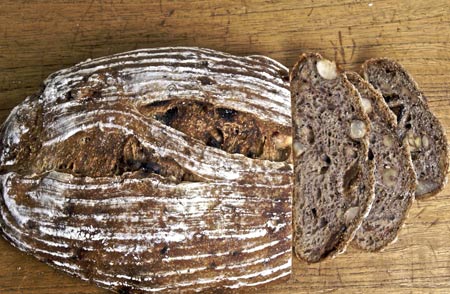 If you're wondering why bread matters and what's the matter with modern commercially-made bread, Andrew Whitley spells it out in Bread Matters: The State of Modern Bread and a Definitive Guide to Baking Your Own, and he doesn't mince words. He spends the first 50 pages or so explaining why the commercial bread baking process (specifically in Britain, although I think it largely applies to most industrialized societies) is "a nutritional, culinary, social, and environmental mess."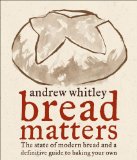 But maybe you knew that already, if you're into baking your own bread. In that case, you might be drawn to this book's unassumingly beautiful and wholesome breads, its chapter on gluten-free baking, or the recipe for kvas, a slightly alcoholic Russian drink made from rye bread, sourdough starter, and molasses.
Aside from looking like it would be just plain delicious (which it was), the recipe for Fruit and Nut Leaven Bread intrigued me because it includes the nuts (along with the dried fruit) in the soaker. This is unusual — most recipes call for nuts to be toasted or untreated — and Whitley promised the soaking would lend them "an almost buttery eating quality." Also, the fruits and nuts constitute a wonderfully high proportion of the overall dough. I must say this was a really satisfying loaf to bake and to eat.
Publisher Andrews McMeel has generously offered to send a free copy of Bread Matters to one of you. Just leave a comment, before 11:59 p.m. PST on December 8, about your own reasons for baking your own bread, and I'll choose a winner by random drawing. And no geographic restrictions on this one!
– Update: The giveaway is over. Comments are still welcome, though!  –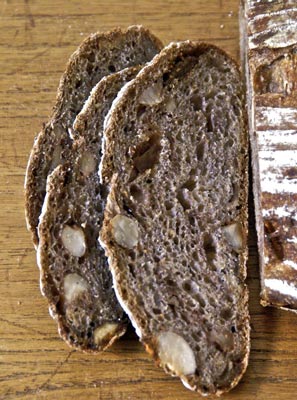 Fruit and Nut Bread
(Adapted from Bread Matters by Andrew Whitley)
Note: I made a few modifications to the original recipe, which calls for
Mixing the flours, water, and salt together before adding the starter. I added them all at the same time.
190 g water. I found I needed 30 g more.
Proofing the loaf right-side up on a baking sheet. I used a 9.5-inch oval brotform.
Proofing for 3 – 5 hours. I found mine was ready in 2 hours.
No steam. Whitley is not a fan of steaming baking bread; I am.
Baking on a baking sheet, not a stone.
Yield: 940 g (one large loaf)
Time:
Soak soaker: at least 4 hours
Mix final dough: 10 minutes
First fermentation : one hour
Preshape, rest, and shape: 30 minutes
Proof: 2 – 5 hours
Bake: 40 minutes
Fruit and Nut Mix Ingredients:
50 g dried figs
35 g pitted dates
35 g pitted prunes
35 g hazelnuts
35 g brazil nuts
35 g walnuts
50 g water
Dough Ingredients:
200 g flour
70 g whole wheat flour
220 g water
5 g salt
200 g mature 60%-hydration whole wheat sourdough starter
All of the fruit and nut mix
Method:
Coarsely chop the fruits and nuts and combine them with the 50 g of water. Cover and let rest for at least 4 hours, or overnight. Drain any loose water off before adding the mixture to the dough.
Combine all of the dough ingredients except the fruit and nut mixture in a bowl. Mix by hand until combined. Adjust the water as needed to achieve a medium-soft consistency.
On the counter, continue mixing the dough by hand until it is smooth and elastic.
Transfer the dough back into the mixing bowl. Cover and ferment for one hour.
Turn the dough onto the counter and pat it into a disc. Place the fruit and nut mixture on the dough and fold the dough around them, repeating until they are reasonable well dispersed.

Shape the dough into a batard and place it seam-side-up into a floured brotform.
Proof, covered, until the indentation left by a fingertip springs back only slowly, 2 – 5 hours.
Meanwhile, preheat the oven, with baking stone, to 425F. You will also need steam during the initial phase of baking, so prepare for this now.
Just before baking, slash the top of the loaf.
Once the loaves are in the oven, reduce the temperature to 400F. Bake for 10 minutes with steam, and another 25 minutes or so without steam. Then turn off the oven and leave the loaves in for another 10 minutes, with the door ajar.
Cool on a wire rack.
Filed in books, giveaways, recipes • Trackback URI

Print with or without images
Comments Feed
mlaiuppa on December 6 2009 at 10:18 pm:

Ooo. Sounds delicious. It has all of the fruits and nuts I love. Even though the figs have to be dried. My Dad has a fig tree and I'd love to find things to do with the figs besides eat them. Providing, that is, there are enough left. I can't help it. I love fresh figs.

And I love the idea of soaking the nuts. I never liked hard, toasted nuts in my bread.

My Mother has diverticulitus. I wonder if she'd be able to eat this bread since the nuts are soaked?

BTW I am also a fan of both steaming and a stone.

I just have to make this bread!

sara on December 6 2009 at 10:30 pm:

Awesome giveaway, and that bread looks amazing!

I have a few reasons for baking my own bread. First, I'm a student and it's generally a lot cheaper to bake my own bread. Second, I know exactly what goes into it and can adjust it to my taste. Finally, baking is just really relaxing and makes me feel good!

Laura T. on December 6 2009 at 10:32 pm:

To be honest, besides wanting to eat the bread that I bake. I love baking bread because it makes the house smell so yummy and inviting!

Chavi Samet on December 6 2009 at 11:25 pm:

I must say, there's nothing like kneading a lump of flour and water into a beautiful ball of dough. Feels so good! And the scent that fills your home…. Nothing compares!

Jessica on December 7 2009 at 12:31 am:

It's so much more satisfying to eat something that you put time and effort in to making- also, those first 15 minutes when the bread is fresh out of the oven and oh so nice and warm and moist… definitely worth it!

Of course, sometimes the bread doesn't last much longer than those first 20 minutes.

Mihl on December 7 2009 at 01:16 am:

That sounds like a great book! And your loaf looks lovely, Susan.

Stacy on December 7 2009 at 01:32 am:

I bake bread because I know exactly what ingredients are in it, it's cheap, and there is something satisfying turning flour, water, salt, and yeast into something delicious and nourishing.

ivan on December 7 2009 at 02:21 am:

i wonder if singapore really has a climate that supports wild yeast. my so-called sourdough starter began with a pinch of commercial instant yeast =/ (but i was doing what the domestic goddess nigella lawson told me to do!)

yael on December 7 2009 at 03:29 am:

For me, baking bread is a creative process. It is my way of expressing myself in an artisitic form-not to mention the amazing smell that fills the house when you bake bread!

Tal Nanus on December 7 2009 at 03:35 am:

Why I bake bread? I just love it.
The feel of proper made dough can't compare to anything.
Another thing is the quality and taste which no bought bread will be.

Miriam on December 7 2009 at 03:39 am:

Baking bread? I learnt to bake bread because I've always loved to experiment all those traditional skills that everybody mastered not so many years ago, that helped us being self-suficient, like baking, growing vegetables, making cheese, brewing, raising livestock, getting advantage of wild produce and everything else. I think all those things have a lot more to do with who we are than sitting in front of a computer.

Linda on December 7 2009 at 04:11 am:

Baking and cooking are just too fun and I love to share the food I make. Thank you for the great recipe. And it tastes wonderful.

Francis on December 7 2009 at 04:22 am:

I love baking my own bread because I know what's gone into it. No improvers, stabilisers, preservatives and unknown quantities of fat, sugar and salt. As well as that, I'm not buying something wrapped in plastic which will end up in a landfill for years to come.

Baking your own bread is a craft that can be continued to be handed down to generations to come. It's so satisfying baking a really good loaf of bread, it makes the house smell wonderful and tastes great. I've discovered so many more types of bread since I started baking this year.

marguerite on December 7 2009 at 04:26 am:

not only is homemade bread delicious, but baking it is one of the most relaxing, cathartic forms of cooking there is. I always do it when i'm stressed.

Mary on December 7 2009 at 04:26 am:

I bake my own bread because of the challenge, and because I am a cheapskate who doesn't like to pay $5 for a loaf of great bread.

Celeste on December 7 2009 at 04:50 am:

I bake because I can.

Arunah on December 7 2009 at 04:58 am:

Absolutely delightful !
Please ! I beg you ! Tell us how you get these stunningly beautiful slashes. I won't start baking until I know the whole truth…
This loaf is not bread. It's a work of art, immensely satisfying for the eye, the mind, the body and the soul…

Captain Batard on December 7 2009 at 05:18 am:

I love the process…
I love to smell bread baking….
I love to eat it….
especially fruity ones…
Have a good break…

martina on December 7 2009 at 05:19 am:

First I start baking my own bread to be sure what there is in it… then I found the whole process so interestingly and relaxing that now I bake because I enjoy it so much (and I'm trying to found even more occasion to baking bread). thanks for the opportunity (and for the load of good advice I always find in your blog)
Martina

jacky on December 7 2009 at 05:24 am:

I have just recently found your blog, and have been enjoying it very much…
this loaf is beautiful… I will look forward to trying it!

I like to bake bread because it involves all of me… and because it connects me to a long line of women and men who have baked for their families and communities for thousands of years…it is an ancient and sacred ritual….

thank you for this give away… the book sounds great

michelle on December 7 2009 at 05:34 am:

what a beautiful loaf of bread! looks delicious.

Caitlin on December 7 2009 at 05:34 am:

The fact that commercial bread baking is a mess in all definitions of the word is definitely why I bake my own bread. This loaf looks absolutely wonderful – I adore fruit and nuts in bread (my fiance says I like bread filled with "bird food" )

SallyBR on December 7 2009 at 05:39 am:

Interesting recipe..

please, include me in the giveaway – why I bake bread? First of all, bread is my favorite food item, I cannot live without it. And no matter how many loaves of bread I've made, the thrill of cutting the first slice and inspecting the crumb is addictive.

Andrea on December 7 2009 at 05:39 am:

For all my experiments in the kitchen, I don't believe I've tried a fruit & nut bread that was a yeast bread. It is a marvelous idea!

As for why I bake my own bread, I simply enjoy it more than buying bread. You can adjust things to your liking, and even when you have a flop, it was still fun and interesting to make, and you'll learn from your experience. A bread bought at the store is just always so uniform–it'll do in a pinch, but baking is better!

Nick on December 7 2009 at 05:44 am:

I work in a computer science research lab at my university, and I spend all day working with ideas and theoretical concepts. I like the job, but I believe I enjoy baking bread (and cooking in general) because it allows me to do something more physical and forces me to focus on the things right in front of me.

Eric on December 7 2009 at 06:05 am:

I bake bread because I like mine better than the stores…. can't beat a fresh bread right from the oven.

Laura on December 7 2009 at 06:09 am:

That looks like a very healthy and earthy bread.

Why do I bake my own bread? For the love of the beast, mixing it, kneading it, shaping it, seeing it grow, and the satisfaction of pulling a freshly baked bread from the oven and enjoy the aroma. The experimentation is also a very satisfactory element, infinite variations and technique.

Thanks Susan, for the incredible inspiration through the last year.

Patricia on December 7 2009 at 06:13 am:

Part of the reason I got into baking my own bread was as a way to decrease stress. (My parent company is in bankruptcy court, we've had 10 rounds of layoffs, you get the drift.) But mostly, I started baking because I wanted more control over the final products my fiance and I eat. My father is a fifth-generation farmer and, since I was a very small girl, I've been taught that fresh ingredients are key to eating well — and living well.

Not that I haven't burnt my fair share of bread. I'm wrestling with a cranberry-based yeast bread right now and you would not believe how bad burnt berries can smell…

Mike Roberts on December 7 2009 at 06:15 am:

I learnt to bake bread only last year. Supermarket bread didn't agree with me so I enrolled on a one-day course with Simon Michaels at the Wild Yeast Bakery in Newnham-on-Severn. Life changing moment. I don't buy bread any more. Home baked bread is tastier, fresher, healthier and deeply satisfying to make.

Beth Brown on December 7 2009 at 06:18 am:

I bake my own bread for a number of reasons: I love knowing what is in it, I love how it smells, I love how it tastes, and I hate going to the grocery store!

Beth

Melanie T on December 7 2009 at 06:28 am:

I bake for my children. I love that it feels right and tastes wonderful to them. (And secretly that it is healthier!:)

DavidM on December 7 2009 at 06:30 am:

Why bake bread? All of the above: creation, aroma taste, flavor, health, fulfillment, comfort, art…

Plus, more oddly: it's the entire lifecycle writ small. Birth, growth, decline, destruction, rebirth.

Tim on December 7 2009 at 06:41 am:

I've been eating almost nothing but home-baked bread for the past year and a half now.. I guess I bake my own bread in order to recover some self-sufficiency. Plus it's cheaper. And usually (tho not always) more delicious…

Jeff Grill on December 7 2009 at 06:50 am:

I'll have to try this one.
I bake bread for all the joys it gives me: the joy of mixing and handling dough, and of participating in the transformation of solitary ingredients into a wonderful loaf of bread; the joy of the aroma of baking bread filling the house; the joy of simply looking at a beautiful (sometimes) loaf or two; the joy of taste and texture in the mouth; the joy of facing the challenge to my capacity to learn and to practice technique; the joy of endless varieties to play with…and the joy of giving bread to friends, neighbors, and relatives. And I bake bread for the mystical joys, the soul-satisfying immersion in a fundamental human and spiritual act.

Stephanie on December 7 2009 at 06:51 am:

I bake bread to save money, because it tastes better, smells great and honestly if you look at the list of ingredients on a bread bag then look at the list of ingredients in your recipe its an easy choice

I've heard of soaking nuts befor eating, I've never tried but its also supposed to make them healthier, easier to digest and get all the goodness out of them or some such thing.

Anna on December 7 2009 at 07:03 am:

I bake bread because it is great pleasure to see my husband cutting and eating fresh baked bread and make him happy.
I love every part of bread baking.
I also soaking nuts before eating, I found out that it is good for health.
Great recipe! Great book! I`m going to buy it. I`m not lucky person.

kevin on December 7 2009 at 07:03 am:

It used to be that baking bread was the only way to get a reasonable loaf. Especially since my family is German, I knew what I was missing from our trips to Europe. Things have gotten a lot better in the past ten years. But I still bake for pleasure, and the joy of creation. It fosters a connectedness to our food sources–just a beginning, but it can lead to much more. Because of baking, I've taken part in the first local grain CSA program in my hometown, to recreate local grain production after fifty fallow years.

jan on December 7 2009 at 07:05 am:

making homemade bread is like free therapy for me. especially if I kneed it by hand. I also love the smell, I especially love the feedback I get from my family when they come home to a fresh loaf of homemade bread!

Erica on December 7 2009 at 07:17 am:

The smell of fresh-baked bread might be my favorite smell in the world! I'm still trying to figure out yeast in the odd climate of our house, but I'm getting better all the time!

Sara on December 7 2009 at 07:34 am:

So many reasons I love baking bread. I love kneading (though I do it all by machine now just because I have my hands full with my son!). I love trying breads from all over the world. I love the science behind it–every time the dough rises I am excited, and while I haven't done much sourdough yet, I find that all the more fascinating.

This book sounds fantastic. I have friends who are celiac and would LOVE bread recipes they can eat. Also, being a big fan of all things Russian, the idea of making the kvass bread that I have read about in so many Russian novels is of great interest!

Tracy on December 7 2009 at 07:43 am:

I make my own bread because I love to bake….everything. Quite honestly my family would rather live on wonder bread but they do have their home baked favorites. Baking to me is a feeling of accomplishment. I've been known to do a little dance around the kitchen while the cooling crust is crackling.

Jon-o on December 7 2009 at 07:53 am:

So many reasons to bake bread! Why choose just one?

The price is, of course a factor – decent bread is incredibly expensive these days. Even when you spend the big bucks, it's not *quite* as fresh, and so, not as good. The ability to try different kinds of bread too, things that are never available in stores is another big plus.

More than anything though, I just like to understand things that I'm in constant contact with – when I use a computer, I want to figure out why the #$#@ thing never does what I want it to do, when I play my harpsichord, I need to take it apart at least a little bit every few days to tweak its innards. Same with my bike. I'm sure if I had a car, I'd be endlessly tinkering with that too. Bread's no different – I can't eat it almost every day without getting curious about how it works!

Brad on December 7 2009 at 08:02 am:

Reasons for baking my own bread? It makes the house smell great, it's therapuetic and relaxing, and even the failures taste great. I like knowing what's in the food I eat, and there is something very gratifying about not giving in to the convenience/fast food offerings so common today.

Jess on December 7 2009 at 08:11 am:

I love being able to add in other things to my bread, and also know that its healthy and what exactly is in it!

Una on December 7 2009 at 08:23 am:

Reasons for baking my own bread…I feel like a rock star when it comes out of the oven!

Karen Dyck on December 7 2009 at 08:24 am:

Being able to make your own bread is a wonderful gift: you usually get a better quality bread than the supermarket provides, and at a more affordable cost; you get terrific variety; you have the adventure of trying new and unusual recipes; and you fill your home with the terrific smell of home made bread.

ellie on December 7 2009 at 08:30 am:

I grind my own grains and make all our bread because it its much better for us.

Dan Sarver on December 7 2009 at 08:35 am:

Bread is good

ds

Cheryl W. on December 7 2009 at 08:38 am:

I like to make my own bread for the sake of myself and my kids. I really believe it is better for us, and I love the variety of whole grains and things I can use. My husband bakes the artisan breads, and I enjoy those for their sheer beauty!

heather on December 7 2009 at 08:39 am:

this is the type of bread recipe I have been searching for! I've made several of yours with great results… this one will be soon to follow!

cheers and thanks,

*heather*

Rosa on December 7 2009 at 08:53 am:

That bread looks fantastic! Great flavors and wonderful texture!

I bake my own bread as it relaxes me, it tastes better than any bought bread, it costs less and I can chose any recipe I like!

Cheers,

Rosa

Frieda on December 7 2009 at 08:57 am:

I bake my own bread because first it is therapeutic, creative process for me. Secondly, I know what goes in it and it gives my family great joy to smell the baked aroma and devour the crusty goodness of homemade bread. What a great memory maker for my family!

Specklet on December 7 2009 at 09:08 am:

Since my husband and I have started baking our bread at home, we've discovered the satisfaction that comes with a healthy and fragrant hand-made loaf! We almost never buy store-bought bread anymore. Unfortunately, our waistbands are beginning indicate the truth in the adage "practice makes perfect"…

Jonathan on December 7 2009 at 09:14 am:

Thanks for sharing another book. I am not very good in the kitchen, to say the least, but I tremendously enjoy experimenting with baking. It lets me feel creative in a way that I can't achieve at work.

Mimi on December 7 2009 at 09:24 am:

Susan, that is a gorgeous loaf!

I bake bread because it engages all of my senses and it makes me feel happy and accomplished.

Daniel on December 7 2009 at 09:56 am:

Beautiful bread – as always, just not enough time in the day to make them all. (even if I did, I couldn't eat them – but my coworkers would be happy). Happy Holidays, and luv da blog!

Olga Joho on December 7 2009 at 10:05 am:

Thanks for all the wonderfull bread ideas.
I love baking bread, especially when the rest of the meal is a flop there is still plenty of tasty carbs to be enjoyed. (And it seems to impress people, especailly family).

drfugawe on December 7 2009 at 10:20 am:

You scared me for a minute, Susan – I thought you were preparing to pile those fruits and nuts on top of your loaf for baking!

Why do I bake? 'Cause there just ain't any place to buy decent bread – at any price. So, I know I agree with the author, even before reading his book.

Veronika Rojas on December 7 2009 at 10:20 am:

I love to bake my own bread because it gives me a sense of empowerment to control the ingredients of the food I eat and it frees me from having to feel dependent on commercial food. I also love the way the dough feels when I kneed it–its like meditating.

Rick Suydam on December 7 2009 at 11:22 am:

I bake my own bread because the overall quality of commercially produced bread is deplorable. By baking my own I control what goes into and how much. Additives and stabilizers need not apply. Of course I have a long, long, way to go to even begin to approach the quality of the offerings I find throughout your site.

Victoria on December 7 2009 at 11:24 am:

I love baking because it's such a great stress reliever – nothing quite like punching a blob of dough into submission! Also, there is nothing better than the smell of bread baking and the taste of fresh bread just from the oven.

bryn on December 7 2009 at 11:54 am:

i like to know where my food comes from, baking my own bread lets me know that the bread i eat comes from my hands. a nice feeling. plus its just an amazing process to be a part of.

Maggie on December 7 2009 at 12:17 pm:

I like baking my own bread because it is so rewarding. It connects me with a process that's been going on for all of time.

Stefanie on December 7 2009 at 12:35 pm:

To bake my own bread has diffrent reasons. First of all I can relax so much after a stressful week in lab. I like to feel the texture of dough under my hands and to calm down while kneading and during the long fermentation prozess.
And then I like the taste of homemade bread. Used to homemade bread most of my life I dislike the taste of this fast baked, industrial breads filled with dough improvers.
I like to know what is in my bread. No chemicals, just flour, salt, water, yeast and maybe some seeds. You need so less to make such a delicious thing.

Baking Soda on December 7 2009 at 12:36 pm:

Why? Smell, feel, flavour! I enjoy the fact that my children can distinguish between all kinds of bread effortlessly; they handle their Ipod, computer, they chat and they know how a good loaf of bread smells and is baked. Nice combination.

Jean on December 7 2009 at 12:48 pm:

I love baking bread because the comforting process of it– the getting your hands dirty, the rhythmic kneading, the waiting for the bread to rise and rise again (and peeking to make sure it's doing it's job)–is the perfect procrastinatory antidote to a weekend of studying for med school exams. That, and it makes friends/family/classmates/strangers happy.

Erin on December 7 2009 at 01:00 pm:

I have control over ingredients, sourness — I can choose what I want it to be (well, mostly).

Andreas on December 7 2009 at 01:15 pm:

Because it's fun.
And tastes better than most other bread (most of the time).

Jeanne on December 7 2009 at 01:54 pm:

I love to bake my own bread because I know exactly what goes into it (nothing artificial!). I enjoy baking just about anything, but bread is special to me because it starts out with a few simple ingredients and (most of the time) becomes a beautiful and tasty loaf of bread!

maureenC on December 7 2009 at 02:16 pm:

I love to bake my own bread because its magical how a few simple ingredients can create something so tastey.

Margret on December 7 2009 at 02:19 pm:

I love making my own bread because it is both relaxing and challenging at the same time

Chris M on December 7 2009 at 02:29 pm:

I love making bread cause I'm a carb addict!!!

Bryony on December 7 2009 at 02:38 pm:

Why do I bake bread?
The science of art and the art of science
cheers

JanH on December 7 2009 at 02:41 pm:

We no longer have a bakery (other than the grocery store) in our town. You need a degree in chemistry to read the labels on most grocery store breads; or you need to float a bank loan to buy the 'artisan' breads they sell. I can bake for much less money and get exactly the types of bread and other baked goods that we enjoy…fresh and wholesome.

Esther on December 7 2009 at 03:30 pm:

I would like the book, but I just want to thank you for all the wonderful posts, recipes and ideas. Thanks!

Consie on December 7 2009 at 03:39 pm:

I make my own bread because I love my Beasties. I hand knead my bread because I always love the way the dough feels in my fingers. And I love they way my bread looks when it comes out of the oven. Every single time, I ask myself the same question: "aren't these just the loveliest loaves you've ever seen?" And this is all even before the eating part… which is indescribable.

Ria on December 7 2009 at 04:14 pm:

I bake my own bread because I'm addicted to baking bread! I love everything about it, and just the process of deciding on which bread to make makes me happy!

Dorothea on December 7 2009 at 04:42 pm:

Baking bread connects me to my german heritage. The first time I visited Germany and all of my mother's relatives, is the first time I ever tasted home baked bread. Every time I enjoy home-baked bread I get to relive the memories of my first time.

Charles G Thompson on December 7 2009 at 05:32 pm:

This is such a great book. I just posted a review of it on my own blog yesterday. I've baked from it a few times and can't wait to try more.

Einar on December 7 2009 at 05:54 pm:

I was actually going to buy this book 5 days ago but somehow changed my mind. Probably because I was not worried enough about the state of the modern bread! Or I bought another one and decided that two books on the eve of my bread making carrier would be several hundreds pages to much.

I have to admit that I actually don't bake very often but was looking for some books to get into the matter. (Hmm didn't I just say that?) I'm very interested to start making my own bread on regular basis and the main reason would definitely be taste. Fresh taste.

I mean the breads you buy taste all the same completely independent of how they look. But then again I should shop from a better baker! Or make my grand plan a reality, to bake my own bread in all shapes and live happily ever after. And start a new kite society.

And really like naan.

Memoria on December 7 2009 at 06:17 pm:

I enjoy baking my bread because it usually tastes much better. I also feel so proud of the outcome and love (bragging) um telling others that I made my own bread. I also to touch and knead the dough. It is such a relaxing and fulfilling feeling.

Charles on December 7 2009 at 06:33 pm:

I bake bread as an act of connectedness. I love the physicality of the process, the stimulation of the senses, and the joy of sharing the outcome. I'll bake twenty to thirty loaves in our outdoor wood-fired hearth oven and an hour later they are gone – filling the hearts of family and neighbors enjoying the penetrating aromas and crackling crust of wondrous artesian bread. What could be better? It is an act of peace.

Liz on December 7 2009 at 06:38 pm:

I love baking bread because its cheap…and so good right out of the oven.

Brady on December 7 2009 at 06:41 pm:

I love baking bread. It is relaxing and fulfilling. The bread course at TCA was my definite favorite. I love challah and Kuglopf the best.
This book looks amazing would love to win.

Dragana on December 7 2009 at 07:07 pm:

I bake my own bread because it tastes far superior to store bought and is healthier as well.

Cameron on December 7 2009 at 07:16 pm:

That bread likes almost like a biscotti…I wonder how it would do if it staled and then used it for a bread pudding o' french toast?

Bart Van Mulders on December 7 2009 at 08:03 pm:

I should try to bake this bread, looks delicious.
I have 'something' with bread, that is why I am baking my own bread. Great to read some people who read this blog have similar feelings about it.
I went to school for becoming a baker but somehow ended up producing chocolate every day. Still fascinated I started to bake (sourdough) bread like more than two years ago and I still do.
I think is is amazing that water, flour, and salt can become a delicious loaf of bread. The taste of sourdough bread is incredible. I love bread in general and cannot keep myself from eating fresh baked bread once it is out of the oven.
When I applied for my new position in the company I work for one of the reasons I got the job was because the way I talked about food, ingredients.
Bread deserves respect, a lot of respect…

Lisa on December 7 2009 at 09:06 pm:

Allright! One Canadian fan of your site happy indeed with the "no geographic restrictions" spec! That loaf looks mighty fine; bet it toasts up beatifully…

Lilli on December 7 2009 at 10:47 pm:

Well, I bake my own bread because I just love to knead the dough, I love to watch it rise, and most of all I absolutely love the smell of bread baking in the oven. It's heavenly!

Jeremy on December 8 2009 at 01:50 am:

As the draw will be random what I say here shouldn't matter. But I bake my bread because it satisfies so many simple needs; to make things, to make things that others appreciate, to eat well, and to enjoy all that diversity and, literally, companionship.

cinzia on December 8 2009 at 02:01 am:

wonderful bread, susan!
so many reasons why I bake bread on my own: lovely smell while in the oven, amazing feelings while kneading and beating, proudness about something real genuine and homemade. but one pity as well: can't afford daily the quantity for my numerous family!!!
good luck to everybody for the prize!

Irene on December 8 2009 at 07:11 am:

I bake my own bread because it reconnects me to living. I slow down and breathe. I relax. The act of baking bread reminds me that life is a wonderful, deep mystery.

Anna on December 8 2009 at 07:56 am:

I bake my own bread, because…
it's intellectually challenging with all the interesting chemistry and biology involved,
it's a sensual pleasure kneading, feeling, smelling,
it's satisfying to master one of the many nearly forgotten techniques for survival
it's a great gift … everybody loves a loaf of fresh bread

Arlo on December 8 2009 at 08:02 am:

Why do I bake?
I bake because of the art baking really is. We take the simplest ingredients, spend time toiling in the kitchen to create something fulfilling and enticing via scoring patterns, smell and taste.
The best part yet is the next day; we can take those same ingredients and make something entirely different yet equally satisfying.
Baking lets me create so much with such reasonably acquired pieces, it a passion for a fulfilling art form.

Kirk on December 8 2009 at 08:49 am:

I can't paint, I can't sing, I can't do a lot of things that others do to express their creativity. So I love to bake. Nothing gives me the total pleasure of baking a good loaf of bread. Getting your hands on the dough is like a little period of stress relief. And the pleasure grows with the aroma, the appearance, the taste of the bread. It is my opportunity to create something that is beautiful on many levels.

Adriana on December 8 2009 at 09:36 am:

Because turning the simplest of ingredientes, flour, water, salt, into something extraordinarily tasty and versatile, somehow brings out the best in everybody who partakes the experience.

luv2cknbk on December 8 2009 at 09:45 am:

I started experimenting with baking my own bread about 10 yrs ago when I made a batch of sourdough starter from Nancy Silverton's directions using a bunch of grapes for the wild yeast and bacteria. The starter has been kept alive all this time even though my baking was sporactic. I've learned that the starter is very easy to keep, and can go for weeks (sometimes months) in the frig without being fed. I've been sharing the starter with friends and strangers I've met in bakeware departments or in bread classes. For the past 2 years I've become a fanatic home bread baker. Rarely a week goes by without my baking a batch or two (or more) of bread (mostly with sourdough starter).
Your blog and yeast spotting have played a major part in inspiring me to become very creative instead of just going by the book. Thank you for all your shared pleasures in bread baking.

Lea on December 8 2009 at 11:55 am:

I bake bread as a meditation, and to remember that no matter what befalls me and mine, I can always feed us and our souls.

Thanks for this blog; I come often.

terri on December 8 2009 at 01:51 pm:

reasons for baking bread:

1. it tastes better and is cheaper than store-bought bread
2. it's a good excuse to turn on the oven and warm up the kitchen, esp. in winter
3. it's a good way to procrastinate from studying

Sarah on December 8 2009 at 02:17 pm:

What terri said! It's cheaper, it smells heavenly, it's supremely satisfying, and it's a wonderful way to procrastinate.

Kirsten on December 8 2009 at 02:28 pm:

I bake bread because it's healthier, it's more cost-effective, it makes me feel proud, and it feels as though I'm creating a home when the smell of baked bread permeates.

Charlie on December 8 2009 at 03:06 pm:

I bake bread because it is so simple: flour + water + leavening agent = bread.
I bake bread because it is so complex; there are thousands of things to try.
I bake bread because of the satisfaction and pleasure that results from a great loaf.

Lena on December 8 2009 at 03:39 pm:

Homemade bread delicious and you can try any variety you like.

Jaya on December 8 2009 at 04:02 pm:

I bake my own bread because I want to know what is going into it. I also love the process of feeding my yeasties beasties (my sourdough starters) and seeing them rise up and make bread for me to eat. The process is satisfying and the result even more so.

I take care of them and they provide flavorful bread for me.

Richard Cardillo on December 8 2009 at 05:49 pm:

I can think of no better way to demonstrate the power of collegiality, community, service and collaboration than baking bread and sharing it!

Pat on December 8 2009 at 07:11 pm:

Baking bread can be a reward to yourself or those you bake for. Yeast can be simple to work with or a great challenge. For me it is all about satisfaction and artistry. If there is more to learn I'm up for that

Kelley on December 8 2009 at 09:30 pm:

Bread is my favorite thing to eat. I bake it because I know I will always love the outcome.

Mom on December 9 2009 at 07:07 pm:

Is the yummy bread I had at your house over Thanksgiving? It's to die for!!
Mom

Zoë on December 10 2009 at 06:13 am:

Here in the Bahamas it's incredibly difficult and/or expensive to get good quality food – baking my own bread is a hugely satisfying way to eat well for much, much less. Plus my boyfriend adores me for it…

Erica on December 10 2009 at 02:14 pm:

I bake my own bread because it tastes so much better than store-bought bread!

Heather on December 10 2009 at 07:44 pm:

Hmmm. Many reasons for baking my own. First, the process gives me peace. Second, I know what is in it. I can name all the ingredients and pronounce them! Third, it makes me happy to do that for my family, knowing that they are eating nutricious and delicious home made things. And lastly – my house smells GREAT!!

Lalycairn (at) gmail.com

bart henry on December 11 2009 at 05:03 pm:

Honestly? Store-bought bread is garbage and most bakeries don't use the quality of ingredients that I want. Thanks for the chance.

Eli Ally on September 30 2010 at 08:22 pm:

most of the bird food that we have are just sunflower seeds, birds love sunflower seeds`-,

Lee-Anne Archer on March 7 2011 at 06:04 pm:

Love this recipe….plan to make it. We have been buying it for sometime, at a local bakery, only made on Fridays!! Now we can make it any day of the week at home!! Thanks so much.

L.A.

Curtis on September 12 2011 at 10:17 am:

Perhaps you have deemed putting additional videos to the websites and keep readers more interested? I mean I just read through the entire article of yours and it was quite excellent but since I'm really a visual learner,I found that to become more valuable. Just my my idea, Good luck

Jackson Heights Homes For Sale on January 12 2014 at 11:46 pm:

I like the valuable info you provide in your articles.
I will bookmark your blog and check again here frequently. I'm quite certain I will learn many new stuff right here!
Good luck for the next!

http://fatfreerecipes.soup.io on February 6 2014 at 10:21 am:

Admiring the dedication you put into your website and detailed information you present.
It's great to come across a blog every once in a while that isn't the
same old rehashed material. Excellent read! I've saved your site and
I'm including your RSS feeds to my Google account.

most recommended protein for women on February 16 2014 at 03:16 am:

Thanks for a marvelous posting! I certainly enjoyed reading it, you could be a great author.
I will be sure to bookmark your blog and will come back at some
point. I want to encourage you to ultimately continue your great
work, have a nice morning!

http://iodoralforweightloss.blog.com on February 21 2014 at 07:24 pm:

I'm really enjoying the theme/design of your blog.

Do you ever run into any internet browser compatibility problems?
A handful of my blog audience hve complained abojt my site not operating
correctly in Explorer but looks great in Firefox. Do you have any advice to help fix this problem?
Post a comment