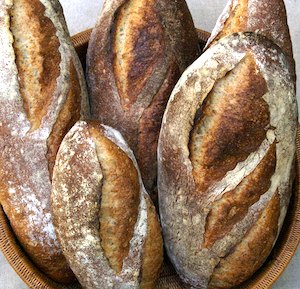 This video demonstrates my method for shaping a pointy batard. It assumes the dough has already been preshaped into a boule and rested for about 25 minutes.
(If you can't see the video here, view it on YouTube.)
Once the batard is shaped, it can be placed seam-side-up, into a floured couche for proofing. It could also be placed into a floured oval basket, although a blunt batard shape is usually better for this; stay tuned!
Filed in how to • Trackback URI

Print with or without images
Comments Feed
codruta on August 2 2011 at 03:29 pm:

thank you Susan! This is an extremely useful video and I really appreciate that you share it.
Best wishes,
codruta, from Romania

Connie on August 2 2011 at 11:10 pm:

Susan, thanks you're a great teacher. Enjoy your day

Francis-Olive on August 2 2011 at 11:41 pm:

yay. you totally rock for adding this video. especially since tomorrow is batard day for me. what excellent timing! -francis-olive

SallyBR on August 3 2011 at 05:40 am:

Susan, awesome video! I pretty much decided that this Fall I WILL master the shaping of baguettes, and pointed batards. I don't have a problem with "regular" batards, but the final rolling on the surface to get the pointed ends, causes me a lot of grievance.

I am saving your video and have high hopes for success!

thank you!

Howard on August 3 2011 at 07:36 am:

Susan,

Truly lovely bartards and an excellent video. Thanks for solving the mystery, at least for me, as to how it's done. I've saved it and will use it for reference when next I shape batards.

Thanks again and best wishes to you and yours,

Howard

Winnie on August 6 2011 at 11:19 am:

Thank you Susan
Your videos are always very helpful.

Lauren on August 8 2011 at 09:10 am:

This is so cool! Thanks for posting.

Pain au Levain-the quintessential French Sourdough on August 18 2011 at 05:31 am:

[...] Shape each piece of dough into a batard about 12 inches long and place seam side up on a floured couche or into floured bannetons. Cover with a plastic bag or plastic wrap and proof at room temperature for one hour.  (70 to 75°) [...]

Paine alba dupa reteta Stureby Deluxe a lui Martin | Apa. Faina. Sare. on October 1 2011 at 08:25 am:

[...] [...]

david on July 19 2012 at 12:32 pm:

hi and thank you for the video

The only problem I seem to have is that my recipe means that I get quite a wet dough… I've tried shaping it like yours and doing a boulle beforehand but the boulle just flattens out if I leave it on the counter instead of inside a bowl or any kind of walled structure… is this simply because my dough is too wet?

also, why do you degas the dough before shaping it? is it bad if I don't degas it?

thank you,

David

Sytropin Review on September 22 2013 at 08:14 pm:

We're a group of volunteers and opening a new scheme in our community.
Your website provided us with valuable information to work
on. You've done an impressive job and our entire community will be grateful to
you.
Post a comment