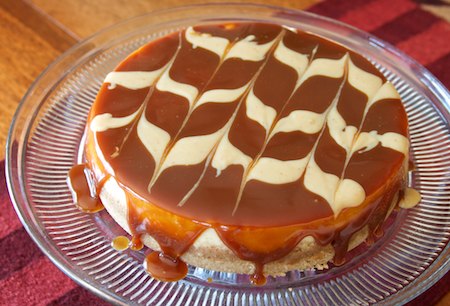 I made this dulce de leche cheesecake for my daughter M's 21st birthday. She loves cheesecake, so I was pretty sure she'd like this, and she did. It's a great cake for cheesecake lovers. It turns out it's also a great cake for turning non-cheesecake lovers (people who say "I don't like cheesecake") into cheesecake lovers (people who say "this is the most awesome cake in recorded history" — yes, these were the actual words). That makes me happy, because she is the most awesome daughter in recorded history, so I'm glad everyone liked her cake!
Dulce de leche is caramelized sweetened milk, and it is amazing. There is no way anyone can not adore it. You can buy it in jars at Latin American markets, or make your own. I used David L's recipe. It both flavors the filling and serves as the light-colored accent on the caramel topping. I made it less dark than some dulce de leche I've seen, although it's not quite as pale as it appears in my photo.
Some hints for perfect cheesecake :
For a smooth batter, the cream cheese needs to be very soft. Leave it out overnight, or put it in the microwave a few seconds at a time.
Keep the mixer on low-medium speed, to avoid incorporating too much air.
Scrape the bowl and paddle diligently. There's nothing worse than noticing a lump of unincorporated cheese stuck to the bottom of the mixing bowl as you're pouring the filling into the pan.
A Springform pan can allow water to seep into the crust when you bake the cake in a water bath, even if you protect the bottom with foil. A deep, straight-sided cake pan is better. Unmold it by inverting it onto a plate and then again onto a second plate. It might stick a tiny bit but this is a creamy cake so you can smooth it out with an offset spatula and no one will notice it if the cake has a topping. If it's to be left bare, try lightly buttering the plate onto which you invert the cake, as well as the plastic you wrap it with.
Cool the cake completely at room temperature before refrigerating or freezing. Leaving it in the water bath helps it cool slowly and prevents cracking.
For clean cuts, dip the knife in hot water and dry it with a towel before cutting each slice.
For a completely gluten-free cake, make the crust with gluten-free graham wafers.
I'm sorry there are no photos of the sliced cake. It went too quickly.
Dulce de Leche Cheesecake
Yield: one 8-inch cake
Time:
Mix: 15 minutes
Bake: 1 hour 15 minutes
Cool: at least 2 hours
Chill: overnight
Unchill and top: about an hour
Chill: 2 hours or longer (optional)
Crust Ingredients:
132 grams graham cracker crumbs
44 grams sugar
64 grams butter, melted
Filling Ingredients:
54 grams heavy cream
54 grams sour cream
454 grams cream cheese, softened
155 grams dulce de leche
145 grams sugar
30 grams melted butter
11 grams (2 tablespoons) lemon juice
6 grams (1 1/4 teaspoons) vanilla extract
157 grams (3 large) eggs at room temperature
Topping Ingredients:
100 grams sugar
21 g (3 tablespoons) water
119 grams heavy cream
28 grams unsalted butter
pinch of salt
about 100 grams dulce de leche
1 – 2 tablespoons heavy cream
Method:
Preheat the oven to 285F if you have a convection setting, or 325F for the regular bake setting. Start boiling water for the water bath.
Butter the bottom and sides of a 2-inch deep x 8-inch diameter cake pan. Line the bottom of the pan with parchment paper, and butter the parchment.
Mix the crust ingredients together well with your fingers. Press the crust into the pan and partway up the sides, to a thickness of 1/4 inch.
In a small bowl, blend the cream and sour cream together.
In a stand mixer with the paddle attachment, cream the cream cheese and dulce de leche on medium-low speed until the mixture is free of lumps.
Add the following ingredients is this order, mixing on medium-low speed until smooth after each addition and scraping the bowl frequently:

butter
sugar, lemon juice, and vanilla
eggs, one at a time
cream/sour cream mixture

Pour the batter over the crust in the prepared pan. Tap the pan on the counter a few times to release any air bubbles.
Place the cake on a rimmed sheet pan and set it in the oven. Pour boiling water in the sheet pan to just below the rim.
Bake until the cake has just a slight wobble in the center when nudged, about an hour and fifteen minutes. Check it after one hour.
Remove the cake from the oven and let it cool, still in its water bath, to room temperature.
Run a knife around the edge to make sure it is free of the pan, then invert the cake onto a plate and again onto a second plate so that it is right-side-up.
Cover the cake with plastic wrap directly on its surface, and chill overnight.
Remove the cake from the refrigerator and let it unchill slightly while you prepare the topping. Keep the plastic wrap on during this time so any condensation forms on the plastic and not on the cake.
In a medium saucepan, stir together the topping sugar and water over low heat to dissolved the sugar. Heat on medium-high without stirring, washing down the sides with a wet pastry brush occasionally, until the mixture turns an amber color.
Stir in the cream, butter, and salt. Simmer over medium-low heat, stirring from time to time, until the caramel is thick but not chewy (gauge the consistency by dripping a bit onto a metal spoon).
Remove from the heat and pour into a metal bowl. Cool at room temperature until it is slightly warmer than body temperature; it should still be quite pourable at this point.
While to caramel is cooling, warm the dulce de leche. Thin it with just enough cream to make it soft enough to drizzle smoothly with a spoon.
Pour the caramel topping over the cake; use an offset spatula to spread it to the edges and let it drip down the sides. You may not use all of the caramel, depending on how thick you like your topping.
To make the design, drizzle three thick stripes of the thinned dulce de leche across the top of the cake and lightly draw a knife perpendicularly to the stripes several times in alternating directions.
Cover with a cake dome. For a firmer cake, chill for 2 – 6 hours before serving. It can also be served at room temperature.