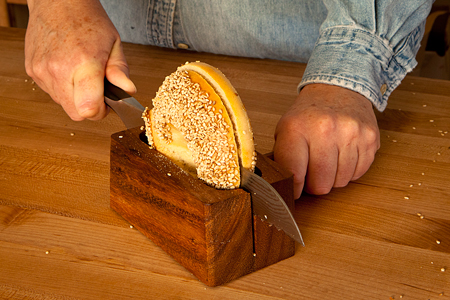 Cutting a bagel is dangerous business. According to the Wall Street Journal, in 2008 there were 1,979 bagel-related emergency room visits. This makes bagels the fifth most dangerous food (behind chicken, potatoes, apples, and onions). If you're partial to your fingers, I suggest a bagel-cutting aid.
I've used a guillotine-style bagel cutter for a long time, but sometimes it doesn't give the cleanest cut. A serrated knife does a better job, but the risk of accidents is high, especially when your bagel is the right kind (that is, shiny-slippery-firm, not squishy-soft-pudgy). The good people at BigKitchen sent me this Ironwood Acacia Bagel Miter, and I was anxious to see if it would cut it.
The device has a cradle for stabilizing the bagel while cutting, and the slot allows your knife to pass all the way through the bagel without counter interference. The cradle is 1 3/4″ inches wide, though, so it takes a big bagel to fill it enough so that the bagel doesn't slide wildly around in the cutting process. I usually make my bagels 85 – 100 grams (prebaking weight), but found that a 150-gram one (in the photo above) was barely large enough for a snug fit. And even so, I had to hold the bagel with my my hand to get the cut started. Once it was started, though, and I could cut with a back-and-forth motion, I got a cleaner, less "shreddy" cut than I usually do with the guillotine.
If you like your bagels big, the bagel miter might make your kitchen a little safer. BigKitchen would like to send one to a lucky, randomly chosen one of you. Leave a comment on this post for a chance to win!
— Update: This giveaway is now over! —
The fine print:
Winner will be drawn randomly by me at approximately 5 P.M. PST on Saturday, December 10.
One comment per person, please.
Full disclosure: They gave me a bagel miter, and no monetary compensation.
And if you need a bagel recipe, try one of these: