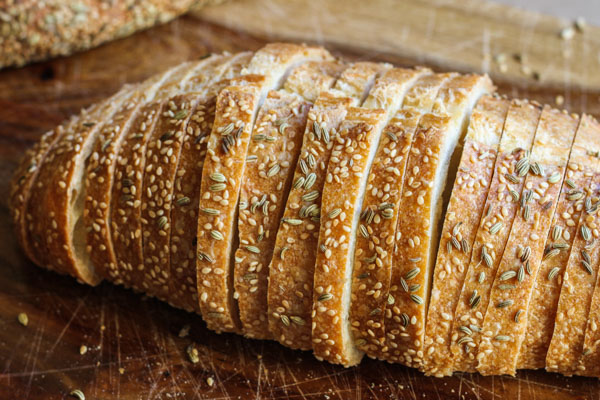 When my daughter and I visited son/brother in Oregon this summer, we had lunch in a cafe whose salads were accompanied by a soft, moist, seed-encrusted bread that inspired M to ask "Why can't you make bread like this?"
"I can."
"Well, make some, then. Your bread is always too crusty."
When I offered this to M yesterday, I imagined she might throw her arms around me and pronounce me the best baker-mom a girl could hope for.
Not even close. She gave the crumb an offhand squeeze and pronounced brightly, without taking a bite, "Yeah, that's it. I'm not hungry. Good job, though!" I'm not entirely sure, but I think she might have given me a little pat on the head at this point.
M, you are so lucky that I love you unconditionally.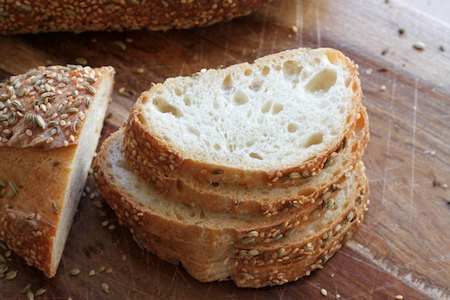 I used a mixture of equal parts sesame and fennel seeds for the coating. Don't do this unless you love the taste of fennel. Sesame seeds by themselves are nice without being quite so provocative.
Although you must not expect your kids to appreciate you for it, you can further soften the crust by storing this bread in a plastic bag once it is cool.
Soft Semolina Sourdough
Yield: 1 kg (2 loaves)
Time:
Mix: 10 minutes
First fermentation : 4 hours, with folds at 1 hour and 2 hours
Preshape, rest, and shape: 30 minutes
Proof: 2.5 hours
Bake: 45 minutes
Desired dough temperature: 77F
Ingredients:
252 g flour
252 g semolina
302 g water
13 g (2-1/8 t.) salt
151 g mature 100%-hydration sourdough starter
60 g olive oil
seeds for topping (I used equal parts sesame and fennel)
Method:
In the bowl of a stand mixer fitted with a dough hook, combine the flour, semolina, salt, starter, and most of the water. Mix on low speed until the ingredients are well incorporated. Adjust the water as needed to achieve a medium-soft dough consistency.
Continue mixing to a low-medium level of gluten development. Then add the olive oil and mix just until it is incorporated.
Transfer the dough to a lightly oiled container. Cover and ferment for 4 hours, with folds after the first and second hours.
Turn the dough into a lightly floured counter and divide it in half. Preshape it into balls and let rest, covered, for 20 minutes.
Shape the dough into batards. Roll the tops and sides on a wet towel and then in your seed mixture to coat. Place them, seeded side up, on a lightly floured couche.
Proof, covered, for 2.5 – 3 hours, until the indentation left by a fingertip springs back very slowly.
Meanwhile, preheat the oven, with baking stone, to 475F. You will also need steam during the initial phase of baking, so prepare for this now.
Just before baking, slash the loaves as you like.
Once the loaves are in the oven, reduce the temperature to 450. Bake for 8 minutes with steam, and another 25 minutes or so without steam. Then turn off the oven and leave the loaves in for another 10 minutes, with the door ajar.
Cool on a wire rack.