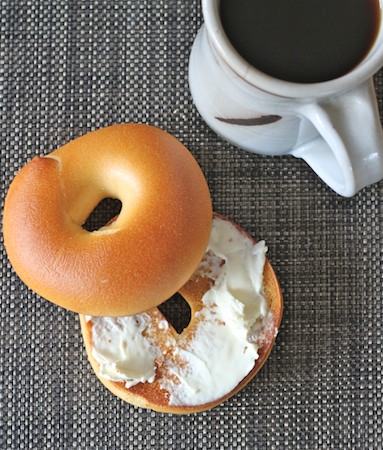 These bagels are 100% sourdough-leavened. Some people will tell you that makes them superior to the ones I have posted in the past, which use a small amount of yeast in addition to sourdough. This is wrong. They're not better, just different. More sour. Very good.
Then there are those who think any bread in the shape of a bagel makes it a bagel. This is also wrong. The only good bagel is a chewy bagel, and there are a few keys to chewiness:
Use high-gluten flour, or your regular flour with about 3% of it replaced by gluten flour (a.k.a. vital wheat gluten)
Don't make the dough too wet. The hydration of this dough is about 55%.
Mix the dough until it is strong strong strong. I mean strong!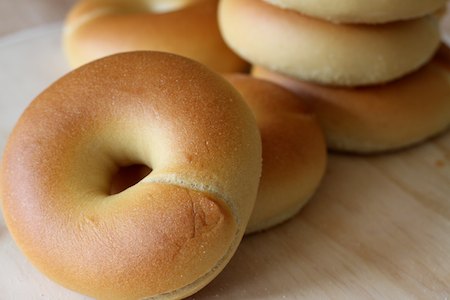 I have always thought that my bagel dough, after coming off the mixer and taking a few turns by hand, had the feel of a brand new tire. I have been ridiculed for this analogy by more than one person I've mentioned it to, but it's my story and I'm sticking to it. Come on people, don't you know what I mean? Haven't you ever run your fingers across a display tire in the tire store and felt its dry, silky smoothness, firm but with just a tiny bit of give? That's what the surface of your bagel dough should feel like.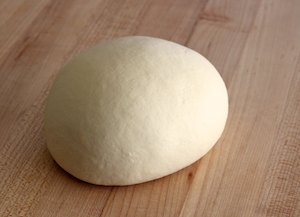 Some people have suggested that a balloon would be a more apt comparison. Nope. I'm sorry, it's a tire. You make your own bagels, you can analogize however you want.
And while we're rendering opinions, I'll reiterate mine about shaping. Rope method all the way. You get a rounder bagel, and that overlap that unmistakably marks them as hand made. Please do not argue.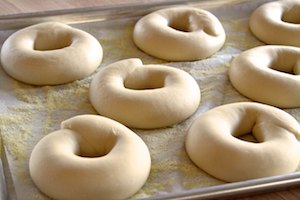 More things to keep in mind:
Make sure you use non-diastatic malt powder (non-diastatic means the enzymes have been deactivated). If you can't get it, you can use barley malt syrup, found in many markets and health food stores, or, in a pinch, brown sugar.
Mix the milk powder and the malt into the flour with your hand before adding these ingredients to the mixer bowl. This keeps the milk and malt from clumping when they get wet.
A spray bottle of water is useful during shaping in case the dough feels too dry or has trouble gripping the counter for rolling.
After you roll the dough into a rope, there may be a "seam" running along its length. Make sure when you join the rope ends together that this seam is on the bottom of the bagel, or it may tear open during baking.
I made this batch of eight bagels in my KitchenAid mixer. Your mixer may not be able to handle any larger batch of this very stiff dough.
If you freeze these, pre-slice and individually wrap them. You can then pop them in the toaster without thawing.
100% Sourdough Bagels
Yield: 8 bagels
Time:
Mix: 10 minutes
Rest, divide and shape: 35 minutes
Proof: 4 hours at room temperature plus 4 – 8 hours in the refrigerator
Boil: 10 minutes
Bake: about 24 minutes
Desired dough temperature: 80F
Ingredients:
349 g high-gluten flour, or 339 g flour plus 10 g vital wheat gluten
121 g cold water
28 g milk powder
16.4 g non-diastatic malt powder
10.1 g (1 2/3 teaspoons) salt
301 g active 100%-hydration sourdough starter
1 tablespoon baking soda for boiling
Method:
Combine the starter, water, flour, malt, milk powder, and salt in the bowl of a stand mixer. Mix on low speed to combine.
Mix on medium-low speed until the dough is very smooth and strong, almost rubbery. How long this takes will depend upon your mixer.
Turn the dough out onto an unfloured counter and work a few turns by hand. Form the dough into a smooth ball; the surface should feel satiny and tight.
Cover the dough loosely with plastic wrap or a towel and let it rest for 10 minutes.
Divide the dough into 8 pieces of about 100 g each. Form each piece into a light ball, cover, and let rest for 10 minutes.
Meanwhile, line a cookie sheet with parchment paper and dust it generously with semolina.
To shape each bagel, roll the dough into a cylinder about 8 – 10 inches long without tapering the ends. Wrap the cylinder around your hand, with the ends overlapping by about two inches in your palm. Roll your palm on the (still unfloured) counter to smash the ends together. (Note: if the dough is a little dry, give it a quick spritz of water with a fine spray bottle before shaping. This helps it roll more easily, and the ends stick to each other.)
Place the bagels on the prepared cookie sheets, and slip into a large food-grade plastic bag or cover with plastic wrap. Proof for about 4 hours at warm room temperature, until the bagels look and feel a bit puffy. Then refrigerate them for 4 – 8 hours.
Meanwhile, preheat the oven to 425F and put a large pot of water on to boil.
When the water is almost boiling, place a cooling rack on the counter with a dishtowel underneath it. Remove the bagels from the refrigerator, brush the semolina off their bottoms, and place them on the cooling rack.
When the water has reached a rolling boil, add the baking soda. Drop the bagels, three or four at a time, into the vigorously boiling water for 20 seconds. They may or may not float right away, but they should float by the time the 20 seconds are up. If they float right away so the tops are not submerged initially, flip them over about halfway through the boil.
Remove the bagels from the water to the cooling rack with a slotted spatula. Let them drain for about 30 seconds before replacing them back onto the semolina-dusted, parchment-lined cookie sheet.
Turn the oven down to 400F once the bagels are in. Bake until golden brown, about 24 – 26 minutes. About halfway through baking, open the oven door briefly to vent any steam.
Cool on a wire rack.