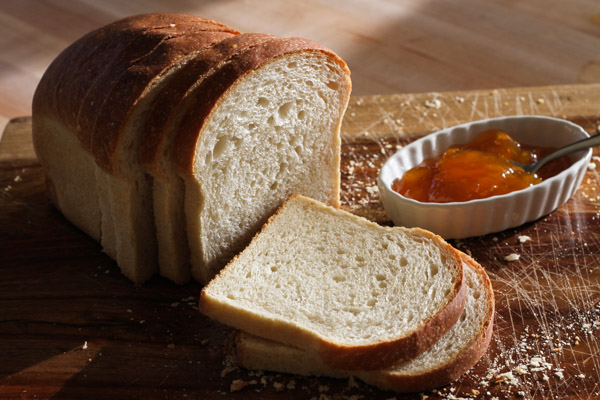 Crusty boules and batards are wonderful, but do you sometimes want a nice soft sandwich bread to replicate that timeless, comfortable and comforting PB & J of your childhood? This should do it, and it's a lot better than Wonder Bread (because it's made with dough — and sourdough! —  not batter).
As with most pan breads, removing the loaves from the pans once their structure is set, and letting them finish the bake standing directly on the stone, helps the side crusts brown. If you don't have a stone, you can place them right on the oven rack if you don't mind a few grooves on the bottom of the loaves, or on a baking sheet that has been preheated with the oven.
Size matters! If your loaf pans are not 8.5 x 4.5 inches, you will need to adjust the amount of dough proportionally, with respect to the volume of the pan, to avoid loaves that are too short or tall. If your pans are 9 x 5 inches, use about 880 grams of dough per loaf.
Soft Sandwich Sourdough
Yield: 1500 g (two loaves in 8.5 x 4.5-inch pans)
Time:
Mix: 10 minutes
First fermentation : 3 hours with folds at 1 and 2 hours
Preshape, rest, and shape: 35 minutes
Proof: about 3 hours
Bake: 45 minutes
Desired dough temperature: 77F
Ingredients:
622 g flour
323 g water
16.2 g salt
65 g unsalted butter at room temperature
31 g honey
33 g milk powder
411 g mature 100%-hydration sourdough starter
Method:
In the bowl of a stand mixer fitted with a dough hook, combine all of the ingredients except about 10% of the water. Mix in low speed until the ingredients are incorporated, adjusting the water as needed to achieve a medium dough consistency (you may need additional water).
Continue mixing to in medium speed to a medium-high level of gluten development.
Transfer the dough to a lightly oiled container. Cover and ferment for 3 hours, with folds after the first 1 and 2 hours.
Turn the dough into a lightly floured counter. Divide it in half. Preshape each piece into a cylinder and let rest, covered, for about 25 minutes.
Generously butter two 8.5 x 4.5-inch loaf pans.
Shape the dough tightly into blunt batards and place them, seam-side-down, into the prepared pans.
Proof, covered, for 3 hours, or until the top of the dough has risen to about 1.5 inches above the edge of the pan.
Meanwhile, preheat the oven, with baking stone, to 425F. You will also need steam during the initial phase of baking, so prepare for this now.
Once the loaves are in the oven, reduce the temperature to 400F. Bake for 15 minutes with steam, and another 10 minutes without steam. Then remove the loaves from the pans, place them directly on the stone, and bake for another 20 minutes or so, until the crust is a deep golden brown.
Cool on a wire rack.