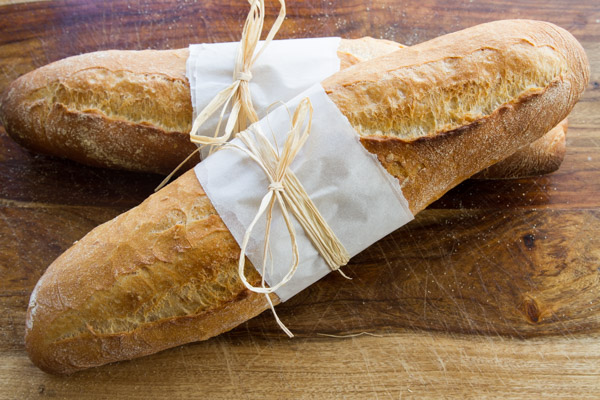 Julia Child would have been 100 years old today. "Hooray!" I am delighted to join the Bread Baking Babes and Buddies in celebrating the life and accomplishment of this remarkable woman — a true Babe — with Julia's Pain Français (French bread).
Oh, Julia, thank you, thank you, thank you for this! Thank you for your dedication and your passion, your curiosity and your ingenuity, without which you would not have brought French bread into the purview of the home baker for the first time.
Published in Mastering the Art of French Cooking, Volume Two in 1970, Pain Français was a landmark achievement. In her engaging memoir My Life in France, Julia wrote that it was "one of the most difficult, elaborate, frustrating, and satisfying challenges I have ever undertaken." After she and her husband Paul baked loaf upon trial loaf with less-than-successful results ("they tasted all right, but they weren't anything like real French bread"), Julia ultimately sought the guidance of renowned French boulangerie expert, Professor Raymond Calvel. He taught her about proper dough consistency ("soft and sticky"), about giving it a long cool fermentation to allow complex flavors to develop, and about good shaping and slashing technique. "By the end of the day, our loaves were turning out just right, and I was feeling euphoric. It was as though the sun in all his glory had suddenly broken through the shades of gloom!"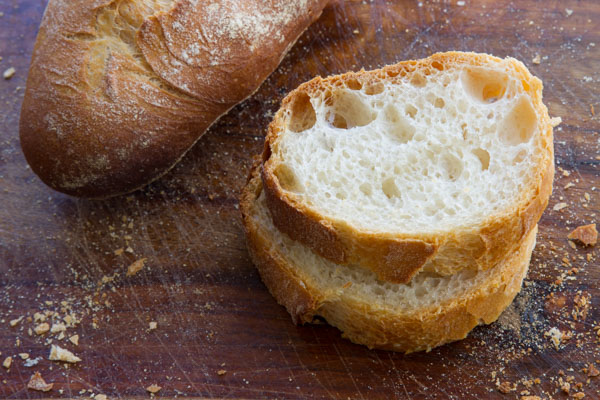 Professor Calvel also showed Julia how professional baking ovens use a hot stone surface and a burst of steam to achieve a wonderfully crisp crust. Back home in Massachusetts, it was up to Julia and Paul to devise a way of replicating these in a home oven. They arrived at asbestos cement tiles as a baking surface, and a hot brick dropped into a pan of water in the oven as a "steam contraption." (The asbestos tiles were eliminated in favor of quarry tiles in the book's second printing, after the carcinogenicity of asbestos was discovered.) Never before had these techniques been implemented. Oh, Julia, you were an innovator in so many ways!
I have summarized the recipe for Pain Français below, but you really owe it to yourself to read the original. In her inimitable straightforward but meticulous style, and with copious illustrations, Julia takes 20 pages in Mastering … Volume Two to detail every technique, from mixing (kneading) to fermenting to shaping to baking. She tells us things like why we cannot speed up the process, but how we can slow it down if we need to, and how to tell when the dough has risen sufficiently, and how to transfer the bread to the baking stone, and where we might improve if we didn't get the results we wanted. She tells us everything. Oh, Julia!
Happy birthday, Julia, and bon appetit!
Julia Child's French Bread — Recipe Summary
Yield:
3 baguettes or batards or boules
Or 6 short loaves (ficelles)
Or 12 rolls (petits pains)
Time:  about 7 – 8 hours, not including cooling time
[Susan's breakdown:
mix and knead: 15 minutes
first rise: 3 hours
second rise: 1.5 – 2 hours
divide, rest, and shape: 15 minutes
final rise: 1 1/2 – 2 1/2 hours
prepare to bake: 10 minutes
bake: 25 minutes
cool: 2 – 3 hours]
Ingredients:
one cake (0.6 ounce or 17 grams) fresh yeast or one package active dry yeast  [Susan's note: Here are some equivalents: fresh yeast: 17 grams; active dry yeast: 0.25 ounce or 7 grams. You could also use 6 grams of instant yeast.]
1/3 cup warm water (not over 100 degrees F)
3 1/2 cups (about one pound) all-purpose flour
2 1/4 teaspoons salt [Susan's note: this is about 13.5 grams. I cut my salt down to 10 grams.]
1 1/4 cups tepid water (70 to 74 degrees F)
Steps:
Combine the yeast and warm water and let liquefy completely.
Combine the yeast mixture with the flour, the salt, and the remaining water in a mixing bowl.
Turn the dough onto a kneading surface and let rest for 2 – 3 minutes while you wash and dry the bowl.
Knead the dough for 5 – 10 minutes. See the original recipe for details on Julia's kneading technique [p. 59].
Let the dough rest for 3 – 4 minutes, then knead again for a minute. The surface should be smooth and the dough will be soft and somewhat sticky.
Return the dough to the mixing bowl and let it rise at room temperature (about 70F) until 3 1/2 times its original volume. This will probably take about 3 hours.
Deflate [fold] the dough and return it to the bowl [p. 60].
Let the dough rise at room temperature until not quite tripled in volume, about 1 1/2 – 2 hours.
Meanwhile, prepare the rising surface: rub flour into canvas or linen towel placed on a baking sheet.
Divide the dough into 3, 6, or 12 pieces depending on the size loaves you wish to make.
Fold each piece of dough in two, cover loosely, and let the pieces relax for 5 minutes [p.62].
Shape the loaves and place them on the prepared towel. See original recipe for detailed instructions [p. 62 or 68].
Cover the loaves loosely and let them rise at room temperature until almost triple in volume, about 1 1/2 – 2 1/2 hours.
Meanwhile, Preheat oven to 450F. Set up your "simulated baker's oven" [p. 70] if you will use one.
Using an "unmolding board," transfer the risen loaves onto a baking sheet [p.65] or peel [p. 72].
Slash the loaves.
Spray the loaves with water and get them into the oven (either on the baking sheet or slide them onto the stone [p. 72]).
Steam with the "steam contraption" [p. 71 and 72] or by spraying three times at 3-minute intervals.
Bake for a total of about 25 minutes.
Cool for 2 – 3 hours.