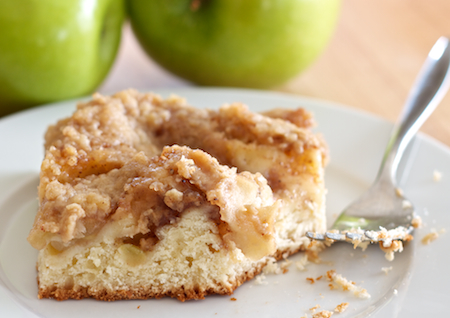 For this month's Bread Baking Babes assignment, Gretchen Noelle (Provecho Peru) chose this Apple Kuchen, a German apple …. cake? Yes, "kuchen" is German for cake, but this yeasted pastry is more like a cross between a cake, a bread, and a scone, topped with apple pie filling. It is a snap to make and keeps fabulously well. In fact, now, four days after baking, I think it is even better — more moist and richer-tasting — than on day one.
You will find the Apple Kuchen recipe on Gretchen Noelle's blog. I followed it pretty much whole, except for a couple of things. I  — being me — used instant yeast (5.2 grams) instead of active dry. Like Gretchen Noelle, I made up my own definition of apple pie spice: 1/2 teaspoon cinnamon; 1/4 teaspoon each allspice, ginger and nutmeg; and 1/8 teaspoon cloves. And I forwent the cream cheese topper because I just felt like going topless.
This is a recipe I would encourage tweaking, especially the filling. The other kuchen-conquering Babes have ideas and advice: Elizabeth (blog from OUR kitchen), Elle (Feeding My Enthusiasms), Tanna (My Kitchen in Half Cups), and Lien (Notitie van Lien). Details about baking with us as a Buddy are at the end of Gretchen Noelle's post. Happy holidays from the Babes!