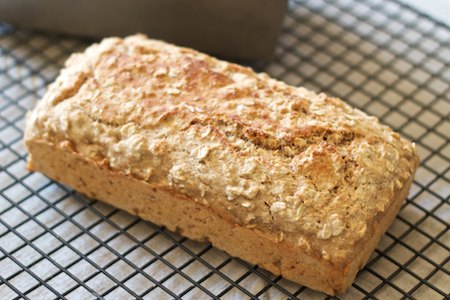 The bread Sara (I Like to Cook) chose for the Bread Baking Babes this month set off a collective cheer among us: Easy Little Bread. Mix, pan, rise, bake: an hour and a half, tops. What, it's that easy, and quick too? Yay!
Sara adapted the recipe from 101 Cookbooks, and it's just as it says: easy, fast, and, oh yes, it's tasty too! With only a quick stir — more of a batter than a dough, really — and one 30-minute rise, it behaves and tastes much like a "quick bread," except that it's not sweet (well, just a hint of sweetness). A delicious foil for just about anything you'd like to spread, drizzle, dab, or slather.
I followed the recipe faithfully, except I used instant yeast (4.6 grams, or 1.5 teaspoons), and a 4-cup pan (4 x 8 inches) instead of the recommended 8-cup one. It just didn't seem like enough batter/dough to fill a larger pan. It barely rose at all during the 30-minute rising period, but the oven spring was rather lively. I did turn on the broiler for a couple of minutes at the end of the bake — with a very watchful eye, of course — to brown it up a bit.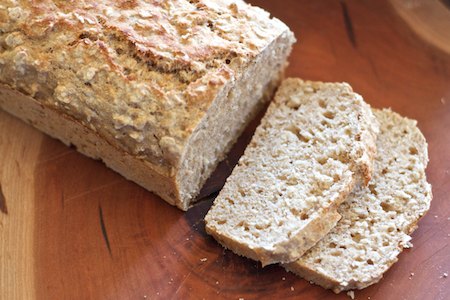 As always, we welcome anyone to be a Bread Baking Buddy — that is, to bake this bread and send a photo and a link to Sara by July 29.
And now for something a little different: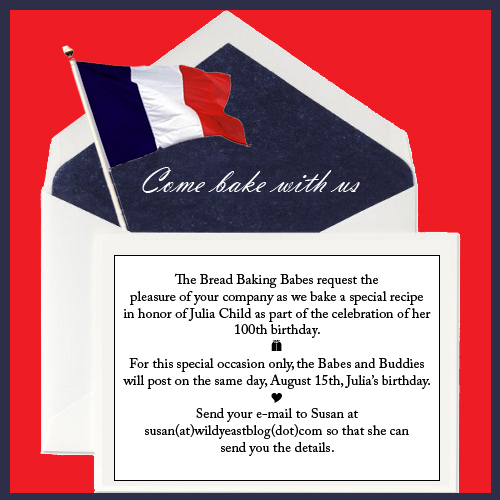 The Babes will bake and post on August 15th in honor of Julia Child's 100th birthday, and we would love for the Buddies (that is, anyone who would like to play), to join us in posting on that day. Big thanks to Elle for creating the invitation. For the recipe we will be baking, please contact me. (NB: This is an invitation for NEXT month, August. THIS month (July), Buddies are still invited to make the Easy Little Bread.)