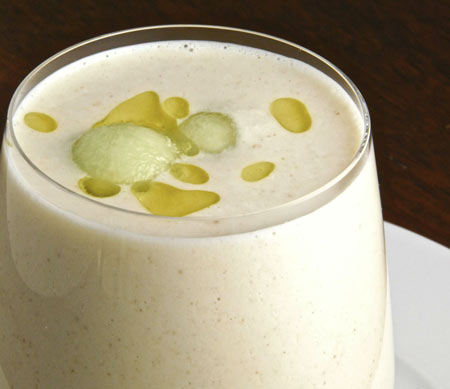 Is autumn already lapping at summer's heels where you live? Where I live, crisp fall days can't be counted on until Halloween, and September can hold some intensely warm days. That means chilled soups still have a place on the menu, and this one is not only refreshing and simple to make; it also gets bonus points for making delicious use of the leftover bread I always seem to have hanging around.
Ajo Blanco is a garlicky Spanish soup that gets its non-dairy creaminess from blanched almonds, and additional body from the bread. The traditional garnish is green grapes but Penelop Casas, in La Cocina de Mama: The Great Home Cooking of Spain, suggests green melon balls, which I found to be a lovely alternative.
Ajo Blanco
Yield: 4 servings
Time:
Blend: 10 minutes
Chill: several hours
Ingredients:
200 g decrusted stale bread, sliced
approximately 1 cup water
200 g blanched almonds
2 cloves garlic, coarsely chopped
3/4 t. Kosher salt
25 g sherry vinegar
65 g olive oil, plus more for garnish
570 g ice water
small green melon balls or grapes for garnish
Method:
Soak the bread in the 1 cup of water for 5 minutes to soften it. Squeeze out as much of the water as you can.
Place the bread, almonds, garlic, and salt in the bowl of a large food processor. Process until the almonds are very finely ground.
Add the vinegar and process until smooth.
With the processor running, add the olive oil in a thin stream.
Again with the processor running, add the ice water.
Transfer to a bowl and chill for several hours, until ice cold.
To serve, garnish with a drizzle of olive oil and a melon ball or two.