Hey Bay Area bread fans, what are you doing next Sunday?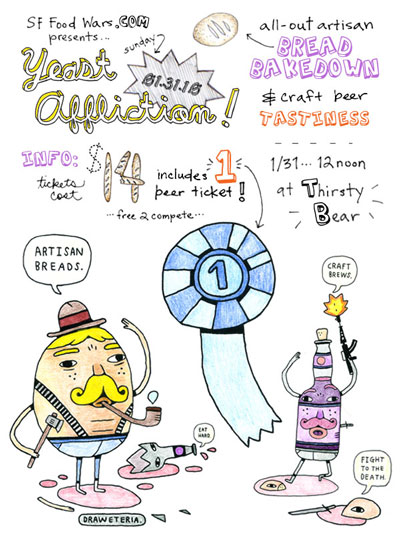 I think I've mentioned that I'll be putting my bread on the line at SF Food Wars' Yeast Affliction! All-out Artisan Bread Bakedown & Craft Beer Tastiness. My Semolina Sourdough with Fennel, Currants, and Pine Nuts will go up against Dark Horse Bread's Black Pepper and Fig Sourdough, Go Nuts!' Nuthing But Net, The Itty Biddies' Nutty Sourdough, and 17 others to see which loaf will be the cat's pajamas.
Tickets were a quick sell-out, so maybe you thought you missed your opportunity to come, drink beer, taste all the breads, and vote for mine. But I believe in second chances, so I saved two tickets to give away to one of my yeast-loving friends in a random drawing.
— Update 1/26: The drawing is done. Congratulations to Erin Beller! —
Just fill out the form below to enter. (Note: comments on this post are welcome but a comment does NOT constitute an entry into the drawing.) You must be over 21, as the event will be held at ThirstyBear Restaurant and Brewery and tickets include one free beer.
I'll draw the winner tomorrow (Monday, 1/25) around 6 p.m., and look forward to seeing you at noon next Sunday!