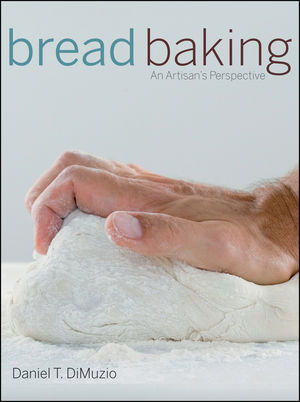 What burning bread questions are on your mind ? How do you know how long a dough should ferment? What is the ideal baking temperature? What is an Auvergnat and how do you shape it? In his book Bread Baking: An Artisan's Perspective, Daniel DiMuzio lets us in on all of it.
This is a textbook, aimed at baking students. It is not a cookbook, although there are a few formulas. But if you're a bread geek like me (come on, you can admit it), you will find plenty here to interest and inform. It is technical stuff, presented very clearly so even those of us who are not pros can make sense of it.
Chapter by chapter, DiMuzio, a baker and baking instructor, takes us through each step of the bread baking process: ingredient selection, mixing, fermentation (what is that yeast really up to in there?), shaping, proofing, and baking. He explains not only what to do, but why to do it. There is also a chapter about rich and laminated doughs, and one on how to create your own dough formula.
Courtesy of Dan and of publisher Wiley, I have a copy of this great book to give away. All you have to do is leave a comment here by 11:59 PM PST on Monday, April 13 for a chance in the random drawing. International entries are welcome in this one. Remember, you cannot win if you do not play!