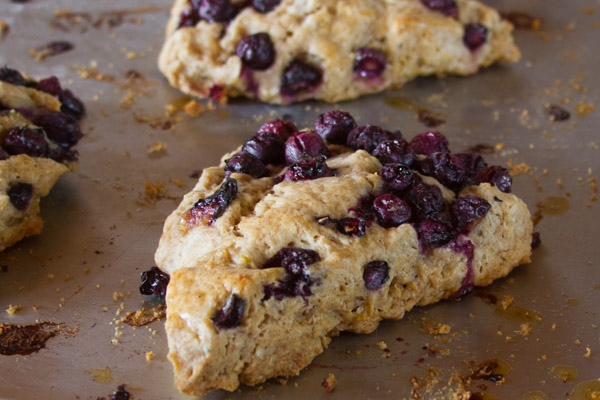 In baking school I learned that freezing scones prior to baking makes the dough easier to cut and helps them retain their shape during baking. At home I learned that it's also a great way to have freshly-baked scones for Sunday morning breakfast.
I baked these in my minimalist sometime-weekend-kitchen. By minimalist I mean a kitchen in a town whose one market doesn't carry parchment paper… a kitchen whose oven temperature I can only guess at… where you make do with the ingredients you have… where fingers substitute for a pastry brush… where the ellipsis has free rein…. But I still have the best 25-year-old Robot Coupe food processor in the world. A food processor is not absolutely necessary, but it makes short work of cutting the butter into the dry ingredients.
The sourdough starter in these scones is more for flavor than leavening. I suggest letting your starter ferment a little past its peak to a more liquid consistency — this makes it easier to incorporate it into the dough. Mixing only to incorporation is important to avoid gluten development and maintain the scones' crumbly texture.
I fresh used blueberries, but other berries, cherries, or chopped stone fruits would also be nice, and frozen works, too. Placing them in the bottom of the pan (which will become the top) rather than mixing it into the dough keeps fragile fruit from disintegrating in the mixing process. A concentration of fruit on top also gives a visual punch to the scones.
Blueberry Sourdough Scones
Yield: 8 scones
Time:
Mix: 10 minutes
Freeze : overnight
Cut and thaw: 30 minutes
Bake: about 30 minutes
Dough Ingredients:
50 grams flour
130 grams whole wheat flour
6.8 grams (1 1/2 teaspoons) baking powder
1.8 grams (1/2 teaspoon) baking soda
3.8 grams (5/8 teaspoon) salt
50 grams brown sugar
113 grams (1 stick) cold unsalted butter
40 grams rolled oats
50 grams half and half
244 g mature 100%-hydration sourdough starter
Topping Ingredients:
170 grams fresh or frozen blueberries or other fruit
one egg
Method:
Line an 8-inch cake pan with lightly-buttered plastic wrap. Place the blueberries in the pan.

In the bowl of a food processor, place the flours, whole wheat flour, baking powder, baking soda, salt, and brown sugar. Pulse a few times to combine.
Cut the cold butter into 1/2-inch cubes. Pulse them with the dry ingredients in the food processor until the largest pieces of butter are the size of small peas.
Transfer the mixture to a bowl. Toss in the oats lightly with a spatula.
Add the half and half and the starter and mix lightly with your hands until just barely incorporated.
Press the dough into the pan over the berries.

Cover the top of the pan with plastic wrap and freeze overnight, or for at least four hours.
Unmold the frozen scone round. Use a sturdy knife to cut the round into 8 wedges.

Transfer the scones to a buttered or parchment-lined baking sheet. Let them stand until slightly thawed, about 30 minutes.
Meanwhile, preheat the oven to 400F.
Make an egg wash by beating the egg together with a splash of water and a pinch of salt. Just before baking, brush the tops and sides of the scones lightly with the egg wash.
Bake for about 30 minutes, or until the scones are set and lightly browned.
Enjoy while warm!