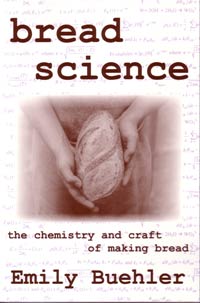 If your high school science classes were anything like mine, they were never like this.
The Krebs cycle, hydrogen bonds, osmosis, asexual reproduction. Does the mere mention of this stuff make you start to hyperventilate? Or fall on your knees and thank all that is good and powerful that you will never have to endure those fathomless lectures again?
If it does, then it's a shame Emily Buehler wasn't your teacher, and Bread Science your textbook.
Buehler, a PhD chemist who turned out to have a calling as a professional baker and baking teacher, gets down and dirty with the science of why bread works. What is fermentation, exactly, and why does it make bread taste good? How does the seeming magic of gluten development really occur? What makes those atoms want to nestle together in just the right way to produce a lofty loaf? Buehler tells and illustrates all, more clearly than any teacher or textbook I have ever had.
But even if you don't think molecules and reactions are at all your thing and you just want to know how to bake better bread, read the book. You can defer Chapter 2, the hard-core science chapter, until you're ready for it, and skip ahead to the chapters on the how-to of bread baking. No recipes here (well, maybe one or two), but tons of good information on the why and and the how of preferments, mixing, shaping, proofing, and baking.
Because she is generous in addition to being smart and talented, Emily Buehler has a signed copy of Bread Science to send to one of you seasoned or budding bread scientists. A comment about your best or worst science class memory gets you a chance to win. The deadline to enter the random drawing is 11:59 PM PDT on Saturday, May 16; international entries welcome!